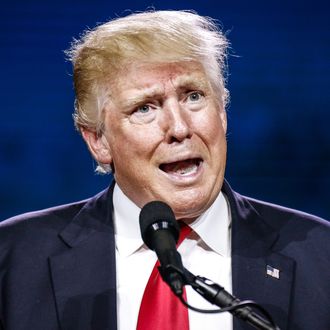 Responsible Rhetoric Matters.
Photo: Marc Piscotty/Getty Images
Donald Trump believes the Black Lives Matter movement has a responsibility to distance itself from the "horrible" rhetoric of its most hateful supporters.
On Monday, the presidential candidate who keeps accidentally disseminating his fans' neo-Nazi memes told the Associated Press that he has heard some Black Lives Matter activists say "horrible, horrible things about police and about others."
"And certainly if they're going to allow that to go along rhetorically, this is not a good thing for our country," the mogul who recently suggested that the U.S. president is an ISIS sympathizer continued.
The tycoon who has campaigned on a proposal to ban all Muslims from entering the United States also expressed concern with the protest movement's "divisive" name.
"A lot of people feel that it is inherently racist," the real-estate heir who contends that judges with Mexican heritage are innately opposed to protecting our borders told the wire service. "And it's a very divisive term. Because all lives matter. It's a very, very divisive term."
When he wasn't scolding protesters for their political incorrectness, Trump offered what was, by his standards, a measured response to the terrible events of last week. Speaking at a rally in Virginia on Monday, Trump called for an immediate end to "hostility against our police," before referring to the "tragic deaths" of Alton Sterling and Philando Castile, which the presumptive GOP nominee called "horrible to witness."
Trump went on to suggest that some police could use more "training," while African-Americans need to regain their "spirit." Somewhat refreshingly, Trump attributed the black community's dispiritedness to economic disadvantage rather than cultural pathology.
"Jobs can solve so many problems," Trump said. "And we're going to open our country up and we're going to be a huge jobs producer again instead of having terrible jobs."
Asked by the AP what he would say to African-Americans who feel targeted by police because of their skin color, Trump replied, "We have to talk to 'em and we have to build up the spirit … We have to talk with the police. And we have to get people to really get along. People are not getting along in this country. We are in a divided country."
Trump proceeded to argue that President Obama was wrong to claim that the nation is united in its shared desire to see greater peace in "our communities."
"When President Obama said the other day that he doesn't think it's as bad as people think, I think it's far worse and certainly far worse than he believes it is," the candidate who self-identifies as a "unifier" declared. "I mean, you were having big, big trouble in many cities. And I think that might be just the beginning for this summer."