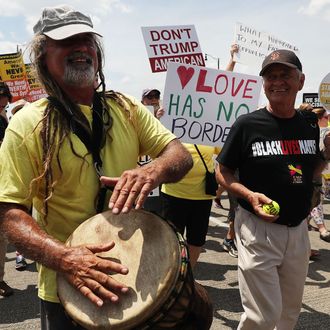 America is already great.
Photo: Spencer Platt/Getty Images
In anticipation of this week's Republican National Convention, the Cleveland Police Department purchased enough plastic handcuffs to arrest 10,000 people. By week's end, they had arrested 24.
We were supposed to see reactionary bikers facing off with radical black separatists; neo-Nazis trading jabs with anarchists; protesters and police exchanging broken bottles and tear-gas canisters. Instead, we got this:
Per Dan Zak of the Washington Post:
Said the guitarist, Kraig Moss, 57, of his fellow musician: "The Lord sent her right down here."

Said Atterberry, 25, a professional saxophonist who describes herself as anti-war: "Music is something that you feel. You can't overthink it, like with voting."

Said Daryl Rembowski, the Biker for Trump: "The silent majority is showing you we can [get along]. We've seen it all week."

Said Fossett, his dance partner and fellow Cleveland resident: "Stop all the white against black, black against white. It's all about love. This is what Cleveland is about. This is what the world should be about.
Inside the convention hall, Donald Trump painted a picture of a country wracked by mass unrest and rampant crime, trying to re-create the America that put Richard Nixon in the White House. But 2016 is not 1968. Not in Cleveland, anyway.