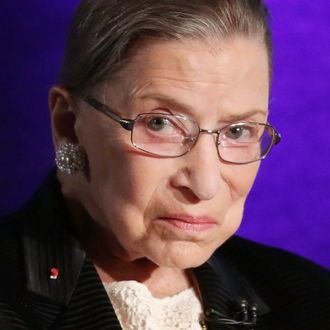 Notorious.
Photo: Alex Wong/Getty Images
Ruth Bader Ginsburg does not want Donald Trump to make America great again. Not even a little bit.
Asked about the prospect of a Trump presidency by the Associated Press last Friday, Ginsburg replied, "I don't want to think about that possibility." Then, in an interview published Sunday, she told the New York Times that she might move to New Zealand if the mogul moves into the White House. Those comments inspired some bipartisan pearl-clutching — and not without reason. Supreme Court justices don't typically make de facto presidential endorsements, however obvious their true sympathies might be. But the 83-year-old feminist icon has a penchant for speaking her mind and a high level of job security. So late Monday night, the Notorious RBG tripled down on her norm-defying Trump-bashing.
"He is a faker," Ginsburg told CNN, issuing what is, for the moment, a majority opinion. "He has no consistency about him. He says whatever comes into his head at the moment. He really has an ego. … How has he gotten away with not turning over his tax returns? The press seems to be very gentle with him on that."
Trump responded to Ginsburg Tuesday, telling the Times, "I think it's highly inappropriate that a United States Supreme Court judge gets involved in a political campaign, frankly. I couldn't believe it when I saw it."
On Wednesday morning, the GOP nominee turned that criticism up to 11.
As Glenn Greenwald notes, there is something quaint in the idea that Ginsburg's comments threaten the perception of the Court's impartiality — and not, you know, that time the Supreme Court picked the U.S. president by a 5–4 party-line vote.
Then again, it is precisely a Bush v. Gore scenario that Ginsburg's critics fear.
"In the unlikely and horrifying event of Bush-v-Gore-like election litigation, I do not see how Justice Ginsburg could refuse to recuse after these sorts of comments," Jonathan Adler, a law professor at Case Western Reserve University School of Law, told NBC News.
However, a world in which Ginsburg is forced to recuse herself from a Trump v. Clinton case is probably less threatening to our government's democratic legitimacy than one in which she is not. The Supreme Court is currently split 4–4 between Democrats and Republicans. A deadlocked Court unable to resolve a contested election is unquestionably more dangerous for the republic than a seven-person Court that ensures a majority ruling.
Unless, of course, one sees a Trump presidency as the gravest threat currently facing American democracy. In which case, shouldn't Supreme Court justices have license to sound the alarm?