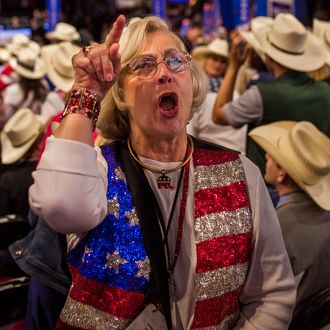 Delegates are enjoying the ragefest, but that's not the purpose of a convention.
Photo: Andres Kudacki
Thursday night's official Republican National Convention theme is "Make America One Again." After the first three nights, displaying Donald Trump's campaign as a force for unity anywhere — even just in Cleveland's Quicken Loans Arena — will take some doing.
On Wednesday night, Team Trump deliberately provoked what can only be described as a lose-lose confrontation with Ted Cruz that created a nasty and divisive scene overshadowing the maiden speech of the vice-presidential nominee. With each such decision, you get the impression the people in charge of this convention have forgotten that the real "arena" is the general election, and that their real audience is an electorate far beyond this bowl seething with unaccountably angry delegates.
Otherwise it's hard to credit the constant, interminable, over-the-top feeding of red meat to the crowd, beginning with Willie Robertson's first-night taunting of people who are not "real Americans." It may be understandable that speakers are tempted to interact with the people on the floor howling for Hillary Clinton's incarceration, but the job of convention managers is to remind them that these people are TV props — ignore them and remember the whole world's watching!
It's almost as though the Trump people are treating the convention as the culmination of the mogul's campaign: an opportunity to glory in their extremely unlikely conquest of one of America's two major parties, to gloat over the shattered Establishment that's being forced to accept them, and to shake their fists at the unbelievers who still mock their orange-tinted champion. That there is still a difficult election ahead and that this convention is a priceless earned-media opportunity to reach out beyond their own ranks seems to be lost on this wild show's organizers and participants.
Perhaps they have oversubscribed to the idea that this is a "base" election with virtually no swing voters that will be decided strictly on the basis of who can get supporters so whipped up into a hate-frenzy that they vote at unprecedented levels. Or maybe they decided in advance that conventions don't really matter as anything other than a reward to core supporters who are cavorting over the supine bodies of their class and ideological enemies in the GOP. 
In any event, Donald Trump has set quite the challenge for himself in making unity, of all things, his announced theme for the climactic convention address, the one thing that could make people forget the atavistic images from the first three nights. As I noted in an earlier column, Paul Manafort says the tycoon is modeling his speech on Richard Nixon's reasonably successful (if retroactively ludicrous) 1968 acceptance speech effort to pose as a moderate third-way alternative to the raging forces of left and right. In this case it would be like George Wallace seizing the podium at that 1968 convention and denouncing the furies he had himself conjured up.
Short of self-criticism, which does not seem to be in his repertoire, Donald Trump is going to have a hard time projecting himself as a unifying figure. But to have any chance of success, he needs to begin by reminding himself that it just doesn't matter whether the delegates physically before him in the arena go away slightly disappointed that he passed up an opportunity to reflect their excited rage.