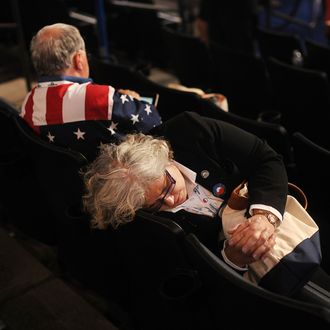 Bet you didn't see this coming: So far, not much excitement planned for Trump's convention.
Photo: Daniel Acker/Bloomberg via Getty Images
In early speculation about what a Donald Trump–orchestrated convention might look like, the general feeling was that it might be a cross between a reality-TV show and a WWE event: plenty of glitter and ersatz drama and massive Trump branding, probably punctuated by frequent appearances from the Man himself. 
But a little more than two weeks out from the opening gavel in Cleveland, it's now looking like the Republican National Convention, at least in its staging, could be pretty conventional. As the New York Times reports today, a lot of the zany things we were hearing about earlier probably aren't happening. Trump says he was "asked" to speak more than once, but he's declined. Famed TV producer Mark Burnett, earlier rumored to be the impresario of the convention, says he's not involved at all. The stage itself looks like just a big projection screen and a podium, not the kind of XFL arena with flashing lights and exploding flares some of us imagined. Trump vetoed an outdoor acceptance speech, and with it, the kind of helicopter arrival he often used during primary rallies. And now it looks like the one bit of choreographed mystery that could have been baked into the schedule, the announcement of Trump's veep choice, is going to happen before the convention.  
The Times piece suggested that what was lacking wasn't any interest in doing something different, but just, well, the organizational moxie to pull it off:
With just more than two weeks until the Republican National Convention opens in Cleveland, Donald J. Trump's preparations for what is usually a polished and highly choreographed affair are looking a lot like his campaign itself: chaotic, freewheeling and unpredictable.

Much of the program remains in flux, including who will speak, how and when Mr. Trump will arrive, and what he will say when he does.
Now, there can be interesting chaos and boring, off-putting chaos. But the Times reporters cannot seem to find much of the former. Yeah, there could be some of Trump's celebrity friends from the worlds of business and sports at the podium, but at some point, hearing successful people talk about their success gets boring if not offensive. In past conventions for both parties, the cavalcade of politicians doing obligatory three-to-five minute speeches (mostly saying the same thing) was broken up by segments involving what the insiders called "real people" — non-celebrities with inspiring stories to tell. It doesn't look like there will be remotely as many pols clamoring to be at the podium as is normally the case, and you figure Team Trump might dismiss "real people" as "losers." So, it's entirely unclear how the time will be filled, other than with Trump's own family:
According to a source close to Trump's circle and briefed on the convention plans, all of Trump's grown children will be speaking at the convention. Though the plans are still in flux, there will be a clear focus on Ivanka, who may have a Wednesday night speaking slot. There are even discussions of having Ivanka introduce Trump when he accepts the nomination on the convention's final night, instead of the tycoon's wife, Melania.

The source said that sons Donald Jr. and Eric will also speak, likely on topics such as the Second Amendment, Benghazi and national security.
A typical convention would feature, say, a medal-encrusted former general or admiral talking about national security. But this one may have Eric Trump, whose main area of international expertise appears to be the identification of financially distressed golf properties ripe for acquisition.
Forces beyond Trump's control could yet produce some convention drama. There's still a chance there will be a convention-floor vote on unbinding delegates. There could be platform fights and even a revolt against Trump's veep choice. And, above all, the possibility of violence near the convention site from anti-Trump protesters and pro-Trump counterprotesters, is very real.
But beyond all that, there's a growing possibility that the convention events Team Trump does control could be underwhelming, mainly because of a lack of planning and focus that is unsettling in a prospective leader of the Free World.