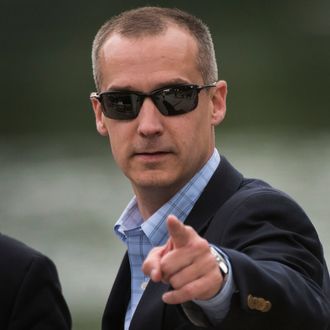 Down, but not out?
Photo: Al Drago/CQ-Roll Call
As the Republican Convention gets underway, advisers and allies of Donald Trump are increasingly concerned that ousted campaign-manager-turned-CNN-pundit Corey Lewandowski could play a wild-card role in Cleveland. Their principal worry: Lewandowski will give Trump hard-edged advice that goes against the campaign's stated plan to soften and humanize the candidate. "He'll be trying to undermine the campaign leadership by giving Trump bad advice," longtime Trump confidante Roger Stone said. Another source said, "Corey will be working the convention rivalries into a froth."
Although Trump fired Lewandowski last month, the power struggle between Lewandowski and campaign chairman Paul Manafort continues, sources close to the campaign say. Lewandowski is said to have lobbied hard for Trump to pick Chris Christie for vice-president. (Manafort's choice was Mike Pence.) Lewandowski also told Trump not to hire Manafort's choice for senior communications adviser, Jason Miller, because "he's a Cruz guy" and would take power away from communications director Hope Hicks. Lewandowski continues to advise Trump to stick to his off-the-cuff style he displayed in the primaries. ("Let Trump be Trump," he calls it.) Sources say that Lewandowski even told Trump not to apologize after Trump faced criticism for tweeting the controversial image of Hillary Clinton and a Star of David surrounded by cash.
Neither Lewandowski nor the Trump campaign have responded to calls for comment.
Lewandowski's enduring presence in Trump's orbit is frustrating to allies like Stone, who believe that Lewandowski doesn't have the political experience to warrant his access to the candidate. "He didn't win the primaries. Trump did," Stone told Daily Intelligencer. But it should not be surprising, either: Trump has a long history of firing and rehiring aides. One such aide is Sam Nunberg. Trump canned him back in 2014 and then rehired him last year, before firing him again in August 2015. Now Trump is suing Nunberg for $10 million.