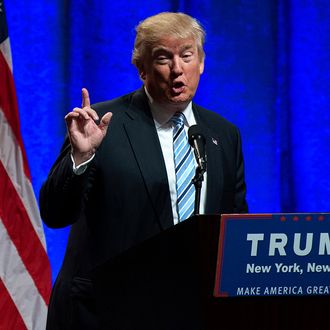 Photo: AP; Bryan Thomas/Getty Images
At a breakfast briefing this morning in Cleveland, Trump convention majordomo and campaign chairman Paul Manafort indicated that his boss's acceptance speech Thursday night will be modeled on Richard Nixon's in 1968. That makes a lot of sense from the point of view of a campaign that wants to "normalize" its candidate and cast him as a healer rather than as a perpetrator of the nasty and divisive tone of national politics at the moment. But Trump is an even less likely messenger for the gospel of peace and concord than Tricky Dick was, and it's a bit of a reach to believe it will work.
Nixon's 1968  speech sought to nestle the Republican nominee in a sweet spot between riotous African-American and antiwar protesters and the backlash they engendered. It also nicely anticipated the disorder that broke out a few weeks later at the Democratic convention in Chicago, in which the Donkey Party came to represent both sides in that year's battles between forces of social protest and of law and order. In words that would soon sound strange coming from the lips of one of the most divisive presidents in American history, Nixon called for peace and harmony:
As we look at America, we see cities enveloped in smoke and flame. We hear sirens in the night. We see Americans dying on distant battlefields abroad. We see Americans hating each other; fighting each other; killing each other at home.

And as we see and hear these things, millions of Americans cry out in anguish:

Did we come all this way for this? Did American boys die in Normandy and Korea and in Valley Forge for this?

Listen to the answers to those questions.

It is another voice, it is a quiet voice in the tumult of the shouting. It is the voice of the great majority of Americans, the forgotten Americans, the non shouters, the non demonstrators. They're not racists or sick; they're not guilty of the crime that plagues the land; they are black, they are white; they're native born and foreign born; they're young and they're old.
In something of a preview of Nixon's 1969 "silent majority" speech outlining his strategy for winning the Vietnam War, the nominee identified himself with a sort of "third way" alternative to the angry left and right. And if the results of the 1968 general election are any indication, it worked, albeit very narrowly.
Trump borrowed the "silent majority" moniker for his put-upon, fed-up army of core supporters back during the nomination contest. And you can imagine him finding additional words of inspiration in Nixon's earlier convention address:
Let's never forget that despite her faults, America is a great nation. And America is great because her people are great.

With Winston Churchill we say, we have not journeyed all this way, across the centuries, across the oceans, across the mountains, across the prairies because we are made of sugar candy.

America's in trouble today not because her people have failed but because her leaders have failed. And what America wants are leaders to match the greatness of her people.
Sounds familiar, eh?
The real question, of course, is whether a nominee who has so openly and consistently battened on anger and divisiveness can suddenly pose as the leader who can calm the waters and unite the country. Isn't all this feel-good stuff "politically correct"? Don't we need the good people of America to take charge and get rid of the bad people? Will a unity plea ring a tad false after four days of fulmination at Crooked Hillary and the crypto-Muslim Obama and the secular socialists of the Democratic Party?
Maybe Manafort was just jollying us along, and Trump will actually give us a ferocious speech against the losers and the looters that chars our cerebral arteries and inspires the violence in the streets we all fear. Or maybe nobody knows what the wiggy dude will say — including Trump himself.
Inside Quicken Loans Arena there is a large teleprompter screen visible from around the hall, designed to serve as a fallback if the screens on the podium somehow fail. I'll be watching tonight to see how often speakers go off-script. If they do, it could be a sign anything could happen when Trump speaks on Thursday: even a plea for calm and national unity.