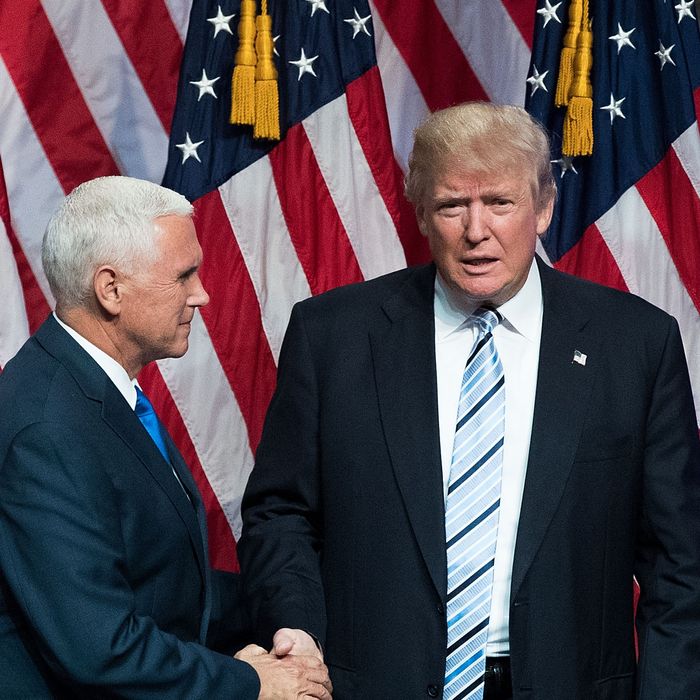 It begins.
Photo: Drew Angerer/Getty Images
GOP presidential nominee Donald Trump formally introduced running mate and interlocking-logo partner Mike Pence on Saturday at a joint news conference, calling the Indiana governor a "solid, solid person" and a "man of honor, character, and honesty" who is "the leader that will help us deliver a safe society and a prosperous, really prosperous, society for all Americans." But while Pence was the reason for Saturday's event, the social-conservative movementeer was only a fraction of the focus. Instead, Trump devoted most of his rambling 30-minute introduction to talking about himself and whatever else he had on his mind, before finally yielding 12 minutes of spotlight to his new running mate.
Trump also referred to Pence as his "first choice," and had previously tweeted that he had been so "from the start" — though that doesn't seem to be remotely true, as multiple reports suggested he still hadn't totally made up his mind about Pence until as late as Thursday night, and that process itself was after several possible Republican VP picks had taken themselves out of the running for the job. The Pence pick has pleased much of the GOP establishment, however, and that's not something Trump has had much will to do in the past.
The event had already been delayed by one day because of what the Trump campaign said was deference to Thursday night's terrorist attacks in Nice, France, yet the news conference still seemed hastily organized. It was held at a hotel a few blocks from Trump's home in Manhattan, in a non-battleground state which only Trump perceives as winnable, and with no Trump–Pence signage around — just a standard Trump sign on the podium. The event also did not appear to be coordinated with any fundraising appeal to supporters, nor does it seem that the new ticket-partners will be going on any kind of pre-convention swing-state tour, as most actual presidential campaigns would normally try to do. As CNN also points out, "There was none of the stagecraft that such a moment would normally contain — for instance, an embrace or both candidates raising their clasped hands to the ceiling in a show of political vitality and unity."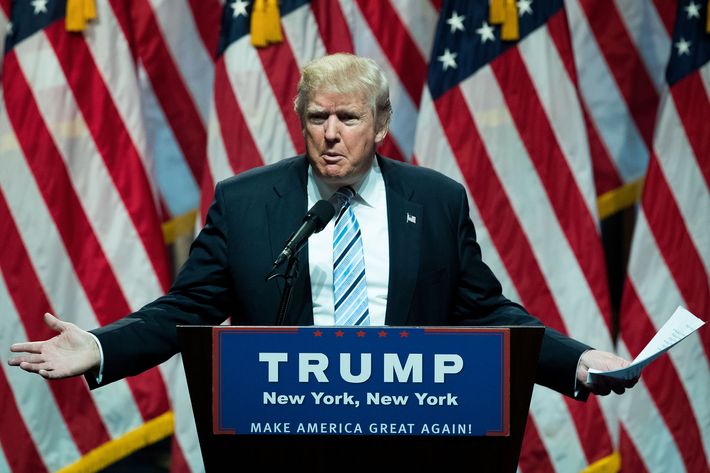 Pence was definitely not Trump's first choice when it came to speech topics on Saturday. Rather, the people Trump was most devoted to talking about at the event were himself and opponent Hillary Clinton, who he lambasted as a corrupt criminal as often as possible. He insisted that "she got away with murder — in fact, I think it might be her greatest accomplishment," when referring to how Clinton had not been found criminally liable for having used a private email server during her time as Secretary of State. Trump also claimed that Clinton was responsible for the rise of ISIS and pretty much everything else that's gone wrong, foreign-policy-wise, during the Obama administration. Trump insisted that Clinton would "pay the price" for her supposed crimes come election day.
Another featured non-Pence topic during Trump's speech was his path to the GOP nomination, which he once again recapped and boasted about — including an additional celebration of what appears to be the recent complete and total defeat of the Republican Party's #NeverTrump faction, which is reportedly no longer going to pursue any last-ditch efforts to prevent Trump's nomination. As Nick Confessore suggested in the New York Times liveblog of the event, the "emotional translation" of the speech seemed to be Trump saying, "I didn't need to unify the party, because I won, but okay, here's Mike Pence. You're welcome, Republican Party." Indeed, Trump also admitted that, "One of the big reasons I chose Mike is party unity, I have to be honest."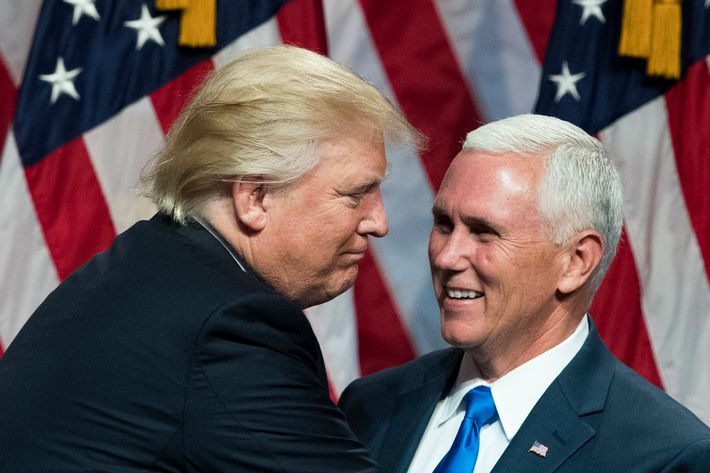 As some have noted, it seemed that Trump mostly remembered to somewhat-robotically mention Pence only after glancing down at his prepared notes. However, Pence did get a unique superlative from Trump, who called his endorsement of opponent Ted Cruz in the Indiana primary "the single greatest non-endorsement I've ever had in my life" — a call-back to Trump's days as a Pence-endorsement truther.
Trump left the stage for Pence's remarks. In that speech, the Indiana governor more conventionally referenced his upbringing and religious beliefs, and said that Trump was a "good man" as well as the leader that America needed, because: "The stakes could not be higher. Americans can choose a leader who will fight to make America safe and prosperous again, and bring real change, or we can elect someone who literally personifies the failed establishment in Washington, D.C."
It seems Pence will get the whole spotlight to himself again when he gets home to Indiana for a last-minute "welcome-home" rally on Saturday — sans Trump, according to the press release.