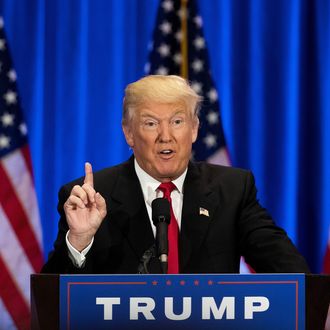 Photo: Drew Angerer/Getty Images
Following a day of speculation over whether or not Donald Trump had actually selected Indiana governor Mike Pence as his running mate, the presumptive Republican nominee announced that he is canceling his VP announcement, scheduled for Friday at 11 a.m., following what appears to be a terrorist attack in Nice, France. Trump later explained that he just felt it was inappropriate to talk politics, "out of respect for this horrific situation." Then, he promptly gave Fox News two highly political interviews, in which he blamed Hillary Clinton and President Obama for creating ISIS, vowed to crack down on immigration from "terrorist areas," and said, "second generation" immigrants turn out to be "very bad" as well.
Images of people fleeing the scene in Nice were still playing on Fox News as Trump repeatedly pitched himself as the "law and order" candidate. "Well, it sounds like here we go again," he told Greta Van Susteren. "It's going to be a whole different world. We're living in a whole different world. There is no respect for law and order. There is no respect for anything or anybody. And this has to be dealt with very harshly."
When asked what he'd do as president to prevent future attacks, Trump rambled through a litany of anti-immigrant rhetoric. "I would be so extreme in terms of documentation," he said. "Obama is allowing a lot of people to come in. We have no idea who they are. They're from Syria, maybe, but they have no paperwork many times. They don't have proper documentation. I would make it — I would not allow people to come in from terrorist nations. I would do extreme vetting. I would call it 'extreme vetting,' too."
Van Susteren noted that some terror attacks in the U.S. have been perpetrated by Americans. "Second generation turns out to be very bad for whatever reason," he said. "But second generation and again, who knows, the new one in France? Maybe it's not, but you probably have a pretty good gut instinct."
Trump then appeared on The O'Reilly Factor, agreeing with the host's statement that "we're in a world-war scenario." Trump said he would go to Congress and ask for a declaration of war against ISIS, apparently unaware that this would be a huge shift in U.S. foreign policy. As the Washington Post explains, Congress hasn't declared war since World War II. President Obama is actually pushing for an authorization of military force against ISIS, as the U.S. is currently attacking the terror group under the old AUMF against Al Qaeda. However:
Congress has resisted the idea of even voting on a new AUMF — much less a declaration of war — in part because many lawmakers paid a political price for supporting the Iraq war. Among them was soon-to-be-Democratic presidential nominee Hillary Clinton, whose 2008 Democratic primary campaign was hamstrung by her vote in favor of the use of force in Iraq. She eventually apologized for it.
Trump went on to stir fears about the 10,000 heavily vetted Syrian refugees set to arrive in the U.S. by the end of the summer. When asked if he considers them a threat, right after Bill O'Reilly pointed out that 60 percent are children, Trump said, "Of course I do. We have no idea in many cases … law enforcement says that you really can't tell where they come from. They may be ISIS. This may be the great Trojan horse of all time."
He also obliquely suggested that Clinton and Obama are to blame for terrorist attacks around the world. "She's very weak. She's actually the one, and him, that really caused much of this problem," Trump said.

Though it's no time to talk about potential vice-presidents, Trump managed to add more fuel to the running-mate speculation, saying he's yet to make a "final, final decision." He also said that while he and his running mate are slated to appear on 60 Minutes this Sunday, "I'm not sure that I'm feeling good about doing 60 Minutes, and I'm not sure that 60 Minutes is going to want to do anything other than this horrific attack."
The interview concluded with O'Reilly complimenting Trump for going on-air, though neither of them really know what's happening in Nice. "Donald Trump reacts. When we call Donald Trump — and he is the Republican nominee — and you want to hear what he thinks about a terror attack in France, he gets on the phone with what, eight minutes did I cajole you? … You got on the phone, you talked to the American people directly and I think everybody has to admire that. I really do," O'Reilly said.
It seems commenting on cable-news shows while terror attacks are still unfolding is just something candidates do now, as Hillary Clinton called in to the The O'Reilly Factor as well. "We need to understand that this is a war against these terrorist groups, the radical jihadist groups," she said. "We need to be smart about how we wage it, but we need to be determined about how we win it."
And, upon realizing that the veepstakes wasn't over — and it still isn't over — some of the finalists tried to prove they're a perfect fit for Team Trump. Mike Pence took to Twitter, describing terrorism as a "threat facing Western civilization." He posted the message a second time even after many pointed out that there were huge terror attacks in Iraq, Bangladesh, and Saudi Arabia this month.
Newt Gingrich was almost too Trump-y. While at one point he thought Trump's plan for temporarily banning Muslims from the U.S. was "too strong," on Hannity, the former House speaker suggested a more extreme policy:
We should frankly test every person here who is of a Muslim background, and if they believe in Sharia, they should be deported. Sharia is incompatible with Western civilization. Modern Muslims who have given up Sharia, glad to have them as citizens. Perfectly happy to have them next door. But we need to be fairly relentless about defining who our enemies are. Anybody who goes on a website favoring ISIS, or Al Qaeda, or other terrorist groups, that should be a felony, and they should go to jail. Any organization which hosts such a website should be engaged in a felony. It should be closed down immediately.
It's weird that during all those years in Congress, Gingrich never read the Constitution.