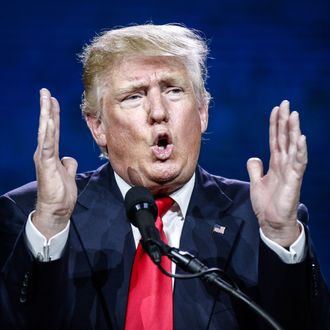 Cash money.
Photo: Marc Piscotty/Getty Images
Donald Trump has become 15 times the campaign fundraiser he was one month ago. Which is to say, after raising a paltry $3.1 million in May, the presumptive GOP nominee took in $51 million in June — or about half of the amount Mitt Romney collected over the same month in 2012.
Trump's improved fundraising fortunes still leave him behind the presumptive Democratic nominee, who raked in an additional $68.5 million in June. Nonetheless, Trump's haul will comfort that portion of the Republican Establishment that is fine with nominating a pseudo-fascist, just not one who can't raise money.
According to the mogul's campaign, the June haul is split between $26 million obtained via fundraising emails, $25 million through events with the RNC, and $4 million from the self-identified billionaire's own wallet. The Washington Post reports that most of that $26 million was generated in just the last ten days, when the campaign began aggressively soliciting funds from supporters (and befuddled foreign politicians) over email.
Trump's fundraising woes have always been a bit mysterious: Considering the size and intensity of his online following, cultivating an army of small-dollar donors would seem like an easy task for a major-party campaign. The presumptive GOP nominee's June fundraising suggests that it is, in fact, an easy task, just one that Trump hadn't bothered doing until now.
It's hard to imagine why his campaign would do that, since lying would only create a wave of terrible press when those FEC documents actually become public — right in the middle of the GOP convention. Then again, that is exactly the sort of thing a garbage fire would do.