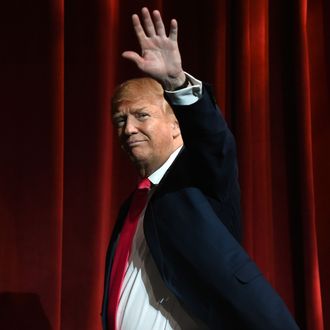 He's met the man he wants to spend the rest of his campaign with.
Photo: Ethan Miller/Getty Images
If you want the best taco bowls in town for your Donald Trump vice-presidential-announcement viewing party, you'd better run out to the Trump Tower Grill right now. The presumptive Republican nominee just revealed when he'll announce who's won a spot on the GOP ticket:
When last we left our hero, Trump was torn between Mr. Right — Indiana governor Mike Pence — and a pair of bad boys — former House Speaker Newt Gingrich and New Jersey governor Chris Christie. Wednesday's installment of the Trump veepstakes was chock-full of the drama and confusion we've come to expect from his campaign. CNN reports that Trump's plane popped a tire when it landed in Indiana Tuesday night, leaving him stranded in the Hoosier state for much of the day. That meant more time with Pence, who even got to meet the family; Trump and his kids had breakfast at the governor's mansion.
However, the other contestants wouldn't give up without a fight. Christie called Trump to chat about their future, then Gingrich overshadowed him with a big, romantic gesture: He flew to Indianapolis on a private jet just to meet with Trump. According to CNN, "He was later seen leaving a hotel in the same motorcade as Trump's children." Saucy!
It was later revealed that Gingrich's friend, Sean Hannity, hatched a plot to convince Trump that Gingrich is "the one." The Fox News host provided Gingrich's private jet, drawing criticism for his matchmaking efforts. Hannity, who has been openly pushing for Gingrich as VP on his show, defended himself on Twitter:
And he underscored that he feels there's nothing unseemly about his involvement in the Trump campaign by interviewing Gingrich about the meeting on Wednesday night. Hannity rattled off his criteria for vice-president, pointing out that Gingrich is clearly political-marriage material. "I check all the boxes and you're right there at the top, and I think you'd be the right choice," Hannity said. "I don't say it as a friend, I'm speaking objectively here."
Gingrich responded by confirming that he's essentially a contestant on The Bachelor. "What it really comes down to in the end, one of the reasons people focus on vice-presidential selections is it becomes a question of chemistry," he said. "Trump has to find the person he is comfortable with, that he wants to potentially spend eight years working side by side [with]."
So, could Gingrich be the one?! "As you know, he and I have a great relationship," the former speaker said coyly. "It looked pretty close in Cincinnati last week!" Hannity teased. Tune in Friday at 11 a.m. to find out!