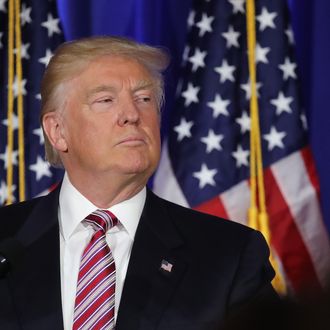 Trump-Tebow 2016?
Photo: John Moore/2016 Getty Images
Donald Trump has not donated money to the Donald J. Trump Foundation since 2008. While the mogul has promised millions to charities in the last decade, the Washington Post could only find documentation of $10,000 worth of gifts over the past seven years. His foundation has given a considerably larger sum during that time period, but those gifts all came from the wallets of people not named Donald Trump.
This has led some to accuse the presumptive GOP nominee of using his foundation as nothing more than a means to branding other peoples' largess with his own gold-plated name. But according to a report from the Post on Friday, that characterization isn't entirely fair – Trump also uses the foundation to buy himself Tim Tebow–autographed football helmets.
The year was 2012. An evangelical Christian quarterback with terrible mechanics had recently defeated the Pittsburgh Steelers in an NFL playoff game. Donald Trump was at an auction run by breast-cancer-research charity the Susan G. Komen organization, when a Denver Broncos helmet bearing the autograph of Tebow himself caught the mogul's eye. The deal-master realized that the helmet – which came with a matching Tebow jersey – was sure to go up in value as the Broncos star ascended to the summit of football stardom. The tycoon got into a bidding war. The Post's David Fahrenthold on what happened next:
Trump won, eventually, with a bid of $12,000. Afterward, he posed with the helmet. His purchase made gossip-column news: a flourish of generosity, by a mogul with money to burn. "The Donald giveth, and

The Donald payeth," wrote the Palm Beach Daily News. "Blessed be the name of The Donald."

But Trump didn't actually pay with his own money.

Instead, the Susan G. Komen organization — the breast-cancer nonprofit that hosted the party — got a $12,000 payment from another nonprofit, the Donald J. Trump Foundation.
If Trump retained possession of the helmet, he would likely be in violation of U.S. tax law, according to experts who spoke with the paper. The best-case scenario for the mogul is that he flipped the helmet, giving it away to another charity.
If the mogul did intend the purchase as a personal investment, he made out poorly. As Fahrenthold notes, a Tebow-signed helmet and jersey can be found online for $415 today.