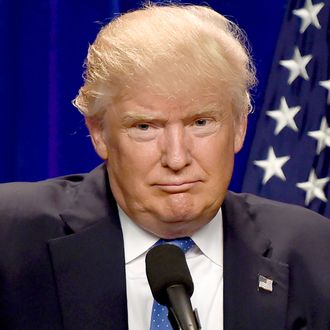 These are truly hard choices, as a certain candidate would say.
Photo: DSK/AFP/Getty Images
Donald Trump is having a hard time choosing a running mate, and not just because no one appears to really want the job. Last week, he auditioned a few potential vice-presidents, and now it appears we may have a front-runner (after two took themselves out of the running). The Washington Times reported on Sunday that Indiana governor Mike Pence has a "95 percent" chance of being Trump's pick. The evidence: Indiana House speaker Brian C. Bosma is allegedly looking into jumping into the gubernatorial race because he expects Pence will drop out to join the Trump ticket (under state law Pence could not run for both offices).
As New York's Ed Kilgore noted last week, the selection of Pence could help Trump rally conservatives who are still wary of him:
The Hoosier's circle of close advisers includes people from Ted Cruz's world (Kellyanne Conway), the Koch brothers network (Marc Short), and Establishment Republican fundraising circles (Matt Morgan and Nick Ayres). The Club for Growth likes him a lot, and he's a longtime favorite of the Christian right, where he's viewed as something of a martyr for taking so many hits for the right to discriminate against LGBT folk.
There's only one problem; picking Pence makes sense, and Trump seems to think what's missing in American politics is a Charlie Kelly–esque "wild card." Instead, a few days ago, the Trump camp floated another possibility: Retired Army Lieutenant General Michael Flynn, the former chief of the Defense Intelligence Agency. The Washington Post reported on Saturday that according to several people familiar with the vetting process, Trump is "increasingly intrigued" by the idea of a general and a businessman — two political outsiders taking on D.C.
Supposedly, Trump's disastrous meeting on Capitol Hill last week convinced him that he doesn't need to "satisfy Republican insiders" with his VP pick, and Flynn ran with that idea on Sunday. On ABC's This Week he suggested he's okay with same-sex marriage, saying, "What people do in their private lives, these are not big issues that our country's dealing with." Maybe conservatives could have looked past that, but then he went on to explain he's in favor of abortion rights. "I think women have to be able to choose … sort of, the right of choice," Flynn said. "They are the ones that have to make the decision because they're the ones that are going to decide to bring up that child or not."
That might not be a problem for Trump (though he may be in favor of punishing women who terminate pregnancies), but various anti-abortion groups were livid. Marjorie Dannenfelser, president of the Susan B. Anthony List, told The Wall Street Journal that Flynn "has disqualified himself from consideration as vice president," and Penny Young Nance, president and chief executive of Concerned Women for America, said, "Lt. Gen. Michael Flynn is a war hero and an expert in foreign policy. He should stick with what he knows. Social conservatives would consider it a slap in the face if he is chosen as VP."
So Flynn's out — or he's the perfect choice, if you subscribe to the theory that Trump doesn't really want to be president.