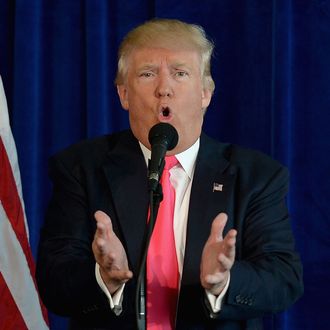 The presidential pivot?
Photo: Gustavo Caballero/Getty Images
Donald Trump, who is the Republican candidate for president, celebrated Hillary Clinton's official nomination by asking a foreign dictator for help with his campaign, revealing that he's possibly confused about the identity of Hillary's running mate, and accusing Clinton aide Huma Abedin of sharing state secrets with her husband, "sleaze ball" Anthony Weiner, at a press conference at Trump National Doral near Miami, Florida on Wednesday.
The GOP nominee also said during the press conference that he wasn't sure that Russia was behind the hacks, and that "China" or somebody "sitting in his bed" could have done it. "I don't know who Putin is," Trump explained. "He said one thing about me. He said I was a genius." Trump did condemn Putin for reportedly using the "n-word" in reference to Obama, but got over it pretty quickly:
At one point, Katy Tur, a reporter for NBC, tried to press Trump on his Russian comments. "Be quiet" Trump interjected. "I know you want to, you know, save her."
The candidate spent a lot of time railing against what he calls the "double email situation" of the "horrible" DNC leaks. "If I would have used language like they used about religion, about race, about everything else that they discuss in those emails, I would have had to run and hide and probably drop out of the race," said a man who has said this (and this and this).
Trump called the Democratic race "totally rigged." "It's about the things that were said in the emails. Terrible things. Talking about race. Talking about Jewish. It was Debbie Wasserman Schultz, and believe me, as sure as you're sitting there, Hillary Clinton knew about it. Debbie Wasserman Schultz couldn't breathe without speaking and getting approval from Clinton."
While Trump fired most of his attacks at Hillary, he tried to get a little jab at her running mate but was either confused about geography or doesn't actually know who Tim Kaine is. "Tim Kaine, who by the way did a terrible job in New Jersey, he wasn't popular in New Jersey. First act he did in New Jersey was ask for a $4 billion tax increase, and he's not very popular in New Jersey. And he still isn't" — which is probably pretty true, as Kaine was governor and a senator for Virginia. Finally, someone corrected him: "I mean Virginia," he replied.
Tom Kean, a Republican, was the two-term governor of New Jersey until 1990, so it's possible Trump was getting his "terrible" politicians messed up.
And no Trump press conference would be complete without reviving a sex scandal. But not the one you're thinking of. Nope, Trump went after Anthony Weiner — who recently said he could beat Trump Jr. like a "rented mule" in a New York City mayoral race — calling him a "proven loser."
The topic naturally came up first when Trump was deriding Hillary's receipt of national-security briefings, which he said would be "revealed." "I mean, her No. 1 person, Huma Abedin, is married to Anthony Weiner, who's a sleaze ball and a pervert. And I'm not saying that. I mean, that's recorded history, right?"
"I don't like Huma going home at night telling Anthony Weiner these secrets, okay?"
He added later, when answering a question about Don Jr. for Mayor ("no intention of running"): "I mean, the poor guy, [Weiner's] locked up in a room. They lock him up in a room, they don't let him out."
Here's the full press conference: