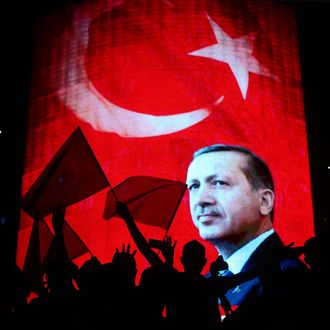 Protest against failed coup attempt.
Photo: Evrim Aydin/Anadolu Agency/Getty Images
Less than a week has passed since a military coup flung Turkey into chaos. The attempt to overthrow President Recep Tayyip Erdoğan ultimately failed, and power has stayed in the hands of Erdoğan and his ruling AKP party. Though short-lived, the coup was bloody, with more than 200 people killed and more than 1,400 injured as major cities Istanbul and Ankara descended into temporary war zones.
Violence has abated, but on Wednesday, Erdoğan declared a three-month state of emergency to "remove this threat" and "strengthen the values of democracy." The declaration gives Erdoğan the power to issue decrees that have the force of law, thus consolidating power within the executive branch.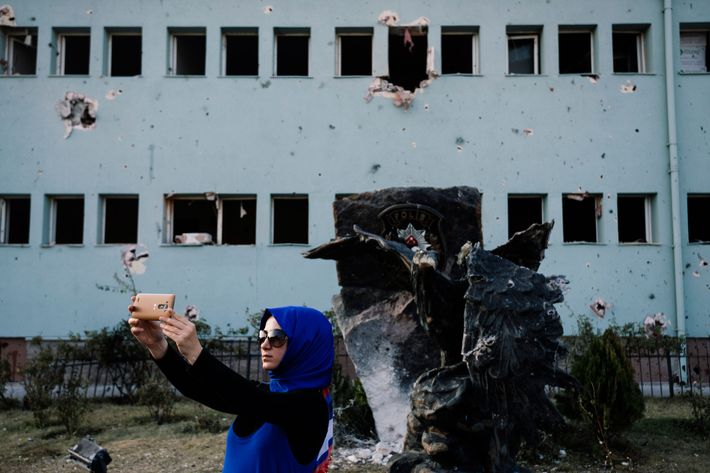 The government is carrying out mass purges across all sectors to try to deplete its ranks of suspected collaborators. The depth and breadth of the crackdown is so large some have called it a "countercoup." Approximately 60,000 military and civil servants — including judges and teachers — are under scrutiny or have been suspended for suspected involvement in the plot to overthrow Erdoğan. Exact numbers are sketchy, since most of the information comes from the state-run media, but here's a sampling of who's been caught up in the rush to clean house: More than 6,000 military personnel have been arrested, and close to 100 top generals — nearly a third of defense leadership — face charges. More than 9,000 police officers have been fired, and nearly 3,000 prosecutors and judges have been suspended. More than 1,500 deans of public and private universities were pressured to resign, and more than 20,000 teachers were also put on leave. The Turkish government also put a ban on academics traveling outside the country, and urged any Turkish professors engaged in research or postings abroad to return as soon as possible.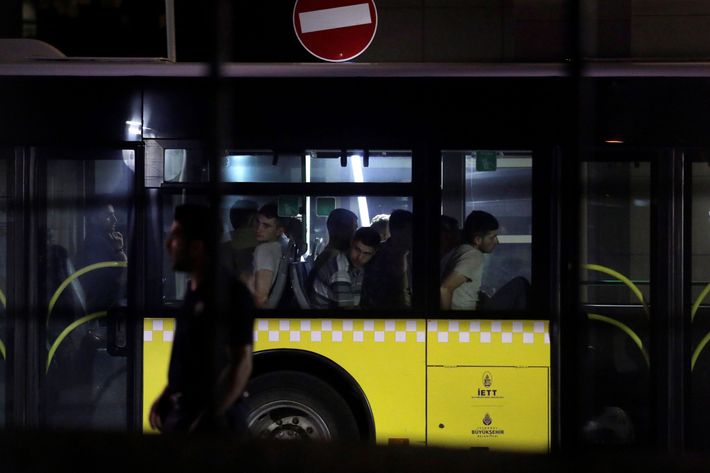 Many of those targeted have alleged ties to Fethüllah Gulen, an Erdoğan rival and moderate Islamic cleric living in exile in Pennsylvania. Erdoğan has openly accused him of being the mastermind behind the plot, and has called on the United States to extradite Gulen to Turkey. The Obama administration appears to be a bit more skeptical of the accusations about Gulen, who has denied involvement and condemned the coup. The White House has said it would examine the evidence and act in keeping with the extradition treaties between the countries. According to the New York Times, President Obama offered to help Turkey with the investigation into the coup when he and Erdoğan spoke Tuesday by phone.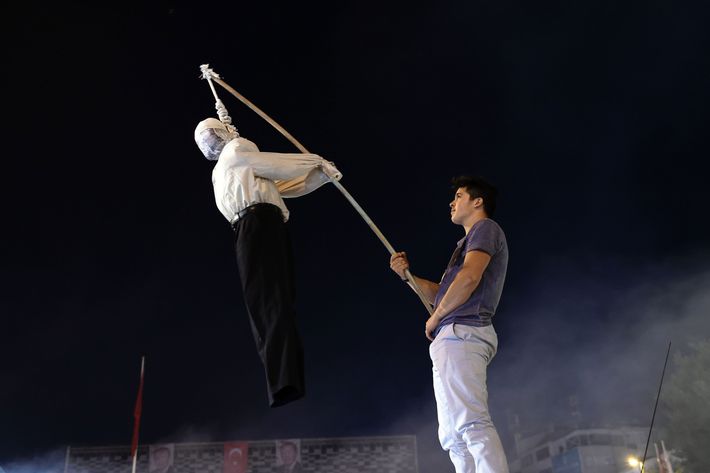 Erdoğan's heavy-handed response is also a source of unease; Erdoğan has increasingly become more authoritarian during his 14-year tenure. A failed-but-legitimate lunge on his power is not likely slacken his grip. Many see the crackdown as an excuse to further clamp down on free speech and dissent in the wake of the coup. On Wednesday, Turkey allegedly blocked Wikieaks after nearly 30,000 documents between AKP officials posted on the site.
The Turkish public generally opposed the coup, but the attempt may have split wider Turkey's fissure between secularists and Islamists, the latter of whom largely turned out to support Erdoğan and have continued rallying since the thwarted coup. "There's a sense of shock and intimidation by the scale of Islamist fervor in the streets because of all this," Soner Cagaptay, a Turkey expert at the Washington Institute for Near East Policy, told the Washington Post. "A few years ago, you would never have seen these jihadi types out in public like they have been in recent days."
Add to that Turkey's key political and geographic role in perhaps the most critical global and humanitarian crises: Turkey is a key NATO ally, and the staging site for United States-led coalition operations against ISIS in Syria. Turkey is also flooded with Syrian refugees from across the border, thousands of whom are using the country as the launching point to reach Europe. Erdoğan's authoritarianism was a sticking point in the March deal between the European Union and Turkey. In that deal, Turkey agreed to absorb refugees in exchange for 6 billion euros and expedited talks on its ascension into the EU — talks which might be a bit more precarious in the wake of the coup.