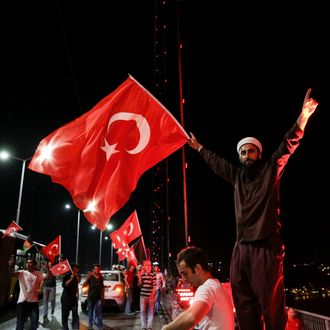 Citizens march on Bosphorus Bridge to protest the failed military coup attempt on July 22, 2016.
Photo: Anadolu Agency/2016 Anadolu Agency
Turkey announced on Thursday that it was partially suspending its participation in the European Convention on Human Rights, after its parliament approved a bill declaring a state of emergency, giving President Recep Tayyip Erdoğan broad new powers to crack down on dissidents after last Friday's failed coup attempt.
Citing the same article of the convention invoked by France to expand police powers in the aftermath of last November's terrorist attacks in Paris, Deputy Prime Minister Numan Kurtulmuş pledged that fundamental rights like freedom of movement and assembly would not be curtailed, according to Hürriyet Daily News.
"I want to guarantee that fundamental rights and freedoms and normal daily life will not be affected by this. Our citizens should feel comfortable about this," he said.
"Our citizens with different political views or lifestyles should not feel uncomfortable. This is not a proclamation of martial law, there won't be curfews. The right to assembly will continue to be exercised."
Kurtulmuş said the government would have the power to legislate by degree, but would only use that power for purposes related to the attempted coup — namely, cleansing the state of supporters of Fethullah Gülen, the dissident cleric and Erdoğan critic living in exile in the U.S., who Erdoğan claims masterminded the coup plot.
Erdoğan declared the three-month state of emergency on Wednesday, and Parliament voted 346-115 to approve it the next day. Kurtulmuş said the government hoped it would be lifted within 40-to-45 days.
The opposition criticized the declaration on Thursday, with one opposition lawmaker calling it a "civilian coup" against Parliament that showed "ingratitude" to all the legislators who had opposed the coup.
Amnesty International has also expressed concerns about the state of emergency; Andrew Gardner, Amnesty's Turkey researcher, feared that the measures Turkey was taking in response to the coup attempt were excessively authoritarian.
"In a situation where almost 10,000 people are currently in detention, amidst allegations of ill-treatment in custody, and when government ministries and media institutions are being purged, the enhanced powers afforded by the state of emergency could pave the way for a further roll back on human rights," Gardner said in an Amnesty statement, noting that in Turkey's constitution, a state of emergency does not entitle the government to violate international law.
The government is carrying out mass purges across all sectors to try to deplete its ranks of suspected collaborators. The depth and breadth of the crackdown is so large some have called it a  "countercoup." Approximately 60,000 military and civil servants — including judges and teachers — are under scrutiny or have been suspended for suspected involvement in the plot to overthrow Erdoğan.
Exact numbers are sketchy, since most of the information comes from the state-run media, but here's a sampling of who's been caught up in the rush to clean house: More than 6,000 military personnel have been arrested, and close to 100 top generals — nearly a third of defense leadership — face charges. More than 9,000 police officers have been fired, and nearly 3,000 prosecutors and judges have been suspended. More than 1,500 deans of public and private universities were pressured to resign, and more than 20,000 teachers were also put on leave. The Turkish government also put a ban on academics traveling outside the country, and urged any Turkish professors engaged in research or postings abroad to return as soon as possible.