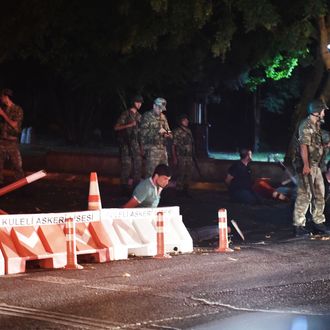 Turkish security officers detain unknown individuals on the side of the road on July 15, 2016.
Photo: Bulent Kilic/AFP/Getty Images
Update, 9:05 p.m. EST
A faction within Turkey's military attempted to topple its government Friday, but was met with widespread opposition from the nation's people and political parties, producing a state of protracted disorder. As of the predawn hours in Turkey, many signs pointed toward the coup's eventual failure, with all of the nation's political parties — including those fiercely opposed to President Recep Tayyip Erdogan — coming out against the rebellion.
Erdogan implored the nation to take to the streets in opposition to the coup. They did, in great numbers.
The United States has pledged its allegiance to Erdogan's democratically elected government. Citizens and police started arresting renegade soldiers, and Erdogan was greeted by a crowd of supporters as he returned to Istanbul.
But the government has sworn to make the coup's participants pay "the highest price," making swift surrender unlikely. And there have been multiple explosions at the Turkish parliament.
Soldiers have taken over CNN's affiliate in Turkey.
Original post:
A faction within Turkey's military is attempting to overthrow its government, Turkish prime minister Binali Yildirim announced Friday.
"Some people illegally undertook an illegal action outside of the chain of command," Yildirim said on private television channel NTV. "The government elected by the people remains in charge. This government will only go when the people say so."
Yildirim assured his audience that the rebels will pay "'the highest price' for their actions," according to Reuters.
Turkish journalist Mahir Zeynalov reports sounds of an explosion at the Ankara police's special-forces training center, and the Turkish state has announced that the nation's army chief has been taken hostage.
Armed forces have shut down two bridges over the Bosporus in Istanbul, the New York Times reports, while fighter jets have been spotted over both Istanbul and Ankara.
Turkish president Recep Tayyip Erdogan is reportedly on vacation.
Soliders are reportedly besieging the headquarters of Erdogan's AK Party.
The military is claiming that it has successfully seized power, justifying its coup as an attempt to "protect the democratic order and to maintain human rights," Reuters reports.
Unsurprisingly, Erdogan contests that narrative. But the narrative that he's pushing instead will surprise anyone who doesn't follow Turkish politics very closely.
Fethullah Gülen is a Turkish preacher and founder of the Gülen religious movement. He lives in self-imposed exile in Pennsylvania. He's also a pretty convenient scapegoat for a president whose critics accuse him of violating Turkey's historical commitment to secularism.
While the prime minister has promised the coup is being put down, Erdogan himself appears less than confident.
However, the embattled president assured his nation that he remains in control — over a TV anchor's iPhone's FaceTime app.
Explosions have been reported outside Turkey's state-run television broadcaster in Ankara.
Erdogan has ruled Turkey for 13 years. The country is a NATO member and a key U.S. ally in the fight against ISIS.