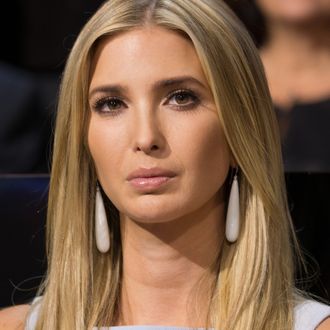 Photo: Tasos Katopodis/WireImages
At some point during the RNC, a terrible thing happened. It wasn't Laura Ingraham's, um, salute or even Ted Cruz ignoring the pledge and going entirely rogue. No. Amidst the festivities, Ivanka Trump, daughter of one Donald Trump, lost an earring.
Now, an Ohio college student, Annabelle Marie, is trying to return the earring to Trump so that it may once again hang regally upon her $150-million-net-worth lobe. She claims she found the earring at the convention center on Wednesday evening. (Though it appears Trump actually wore the earring in question on Tuesday night.)
Annabelle has been aggressively @ing members of the Trump family and key RNC players on Twitter, but thus far doesn't seem to be making much headway. As of publication, her original tweet had only been shared about 40 times. (Though Twitter just turned her earring find into a "Moment," so it's only a matter of time.) Ivanka, if you're reading this and you truly did lose an earring, please come and collect your jewelry.
Points to Annabelle for not just immediately pocketing the earring or selling it on eBay. Then again, what is worth more: a single diamond earring or a few minutes of internet fame?
Update: The earring has been returned.