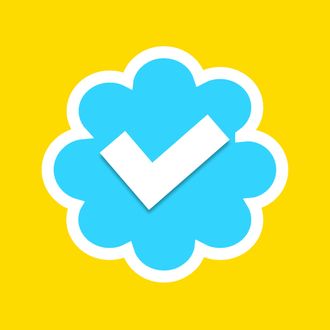 On Tuesday, Twitter announced in a blog post that it's offering a new way for users to get verified — i.e., get a small, blue check mark attached to their account that confirms they are who they say they are. Now, people who seek the holy mark will be able to send their personal information directly to Twitter for consideration.
If you "believe your account is of public interest and should be verified," you can enter your personal information on this form and should be prepared to explain to Twitter exactly why they should make your account official. "If the account represents a person, we want to understand their impact in their field. If it represents a corporation or company, let us know their mission," the blog post explains. If green lit, you may also need to submit a scan of a government-issued ID to prove your identity.
As in the past, Twitter still remains fairly quiet on exactly why they verify whom they verify. "We approve account types maintained by users in music, acting, fashion, government, politics, religion, journalism, media, sports, business, and other key interest areas," Tuesday's post half-explained. Typically, verified accounts belong to people who run the risk of being impersonated online, like celebrities, public officials, or journalists, the idea being that verification will keep people from misattributing things to people who never said or shared them. (Like this man who impersonated a publisher and convinced USA Today that Cormac McCarthy had died.)
But verification also brings along with it special privileges for the verified user, most importantly the ability to filter out replies and messages from the unverified riffraff of Twitter. In other words, if you're a journalist or actor who manages to get verified, you can more or less ensure yourself a Twitter experience free of trolls — but because verified accounts are usually people in your field, or similar fields, you won't hear from many fans or well-wishers, either.
This two-tiered membership structure may help Twitter flatter its most important generators of content, and ensure accurate reporting of Twitter stories, but it also raises an important question: Why can't everyone get verified? The announcement of the new system comes on the heels of comedian and Ghostbusters star Leslie Jones's announcement that she's quitting the service over repeated racist harassment — the same harassment problem that Twitter users have complained about for years, and about which Twitter has done very little. And we can acknowledge that it's difficult to know how to reconcile Twitter's lofty hopes for a free-speech platform that dissidents and activists can make use of with its flood of anonymous misogynists, anti-Semites, and racists.
This is one reason the new verification system comes at an interesting time. If Twitter were to expand the verification program, and allow anyone who submits proof of identity to use the platform, Dorsey & Co. might finally get closer to actually creating a zone that's harassment-free without being sterile and boring. Haters are gonna hate, and harassers will harass, after all, but they tend to hate a lot less when their legal and Google-able name is attached to what they say. And by simply expanding an already in-use program, users who want to be anonymous will still be able to use the service — just without automatic direct access to everyone else.
In a best-case scenario, this new verification process is a pilot program for a broader one that can help square the harassment-versus-free-speech circle. For now, if you want to be verified you'll have to submit your case and hope that Twitter deems you worthy of "public interest."