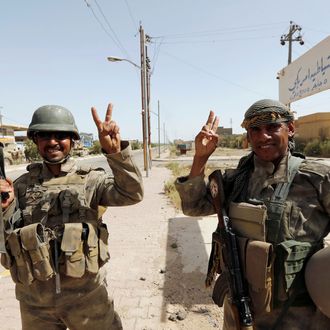 Iraqi soldiers gesture after retaking central Fallujah in June.
Photo: Thaier Al-Sudani / Reuters
The Islamic State — and those pledging allegiance to the extremist group — have unleashed a string of devastating terror attacks in the past few weeks from Orlando to Istanbul to Bangladesh to the mass carnage in Bagdad. But ISIS is losing ground on the battlefield in Iraq, where government forces, assisted by air strikes, have retaken the strategic city of Fallujah and are about to close in on ISIS in Mosul, Iraq's second-largest city.
Over the weekend, Iraqi government troops retook Qayara base from ISIS, an airfield south of Mosul. Most of the additional U.S. troops will be deployed to this base, which will be the staging site as Iraqi forces try to wrench Mosul from ISIS control, which it has been under for two years. One Pentagon official called the impending assault "the culminating battle" in the fight for Iraq.