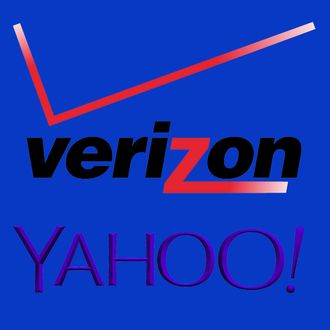 Telecommunications giant Verizon has purchased lumbering dot-com veteran Yahoo for a reported $4.8 billion — just a small reduction from the $44.6 billion offer Microsoft reportedly made for the company in 2008. The deal will finally end the months of rumor and speculation, and years of pity and tongue clicks, about Yahoo, once one of the web's biggest names, and increasingly a punch line.
The company has struggled under CEO Marissa Mayer to reverse its fortunes. Neither its aggressive push into original video and editorial, nor the $1 billion purchase of Tumblr, the teen-friendly blogging platform — just one of scores of companies bought by Mayer — did much to save Yahoo. Sources told Bloomberg last week that the purchase includes Yahoo's core internet business, as well as some of the company's real-estate assets. Yahoo will keep control over its stakes in companies like Asian e-commerce giant Alibaba. The deal doesn't include intellectual property like patents, arguably some of the most important holdings in Yahoo's possession.
So why buy Yahoo at all? In a letter to employees — posted on Tumblr — Mayer wrote that the sale is "a great opportunity for Yahoo to build further distribution and accelerate our work in mobile, video, native advertising, and social. As one of the largest wireless and cable companies in the world, Verizon opens the door to extensive distribution opportunities."
According to Recode, Verizon plans to combine Yahoo with AOL, which it purchased last year for $4.4 billion. That would create a relatively robust editorial organization and, more important, a formidable ad tech department. The pitch to Yahoo's board was reportedly that Verizon is best equipped to take on Facebook and Google in the online ad space.
Google and Facebook dominate the internet's advertising business because they control the two biggest portals through which people experience the internet. Google sells ads against search results, Facebook sells targeted ads based on user interest profiles compiled from activity on Facebook. It's difficult to truly compete with them unless one controlled a similarly gargantuan platform. Like, say, a nationwide telecommunications infrastructure. As one of the country's largest mobile providers, Verizon is a first-party platform owner, and it's arguably better positioned than Google or Facebook because it can track its users (whose names, addresses, and Social Security numbers it knows) on the device level. (Facebook and Google can only really track users while they're signed in to those platforms.) And Verizon's now scooped up two large advertising businesses that can be wielded more effectively in house.
TechCrunch also reported last week that AOL has been in a sort of holding pattern over the potential of a Yahoo purchase
As a side note to all this, some anecdotal evidence. We've been hearing for months that

AOL

offices in different regions have been readying themselves for a future with more purple in it. That's run the gamut from keeping a holding pattern over new office space and future hires, through to strategic 'sprints' to consider developments in coming months around R&D initiatives, advertising and

more.
The question is if a major infrastructure company, with a corporate culture that reflects its age and particular business model, can efficiently operate software companies like AOL and Yahoo — let alone compete against much bigger ones. Right now, as large as the Verizon-AOL-Yahoo Voltron is, it's still a distant third.
"Yahoo and AOL popularized the Internet, email, search and real-time media," Mayer said in the press release. "It's poetic to be joining forces with AOL and Verizon as we enter our next chapter focused on achieving scale on mobile."