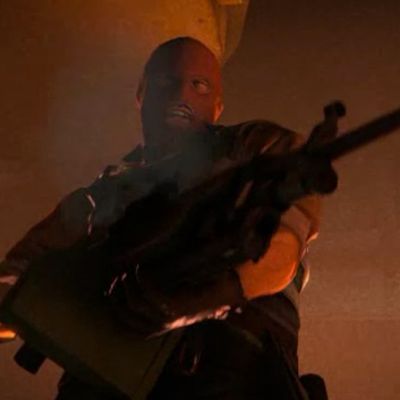 For the past month or so, the popular video game Counter-Strike: Global Offensive has been at the center of a gambling scandal which has already taken down several popular streamers and websites. Players are gambling with virtual weapons that have real cash values, leading to an online economy that some claim is basically equivalent to dealing in cash itself. If I were, say, a Fox News producer, the chyron would read "Teen Trend: Black-Market Arms-Dealing."
People can buy and sell weapon skins, designs that change weapon appearances, using real money, and can then resell them to other players. A recent Bloomberg report described it simply:
People buy skins for cash, then use the skins to place online bets on pro

CS

:

GO

matches. Because there's a liquid market to convert each gun or knife back into cash, laying a bet in skins is essentially the same as betting with real

 

money.
CS:GO, as it's known, has been wildly successful for its developer and publisher, Valve, the same company that runs Steam, the de facto digital-distribution service for PC gaming. They get a cut of every transaction on the service. According to the service's real-time statistics, there are more than 450,000 people playing the game right now. Bloomberg reported that more than $2.3 billion worth of weapon skins were wagered on e-sports matches in 2015.
Dozens of sites exist that allow Steam users to connect their accounts (and thus their CS:GO inventory) and then place their virtual weapons into betting pools — sites with names like CSGO Lotto and CSGO Casino. Oftentimes, the people using these websites are under the age of 18, but because the activity doesn't fit the legal definition of cash gambling, their status is more dubious than outright criminal — like vaping. (Valve is currently facing lawsuits over its marketplace.)
CS:GO has a large e-sports community, and many of its best players are also popular streamers who display their prowess for fans on sites like Twitch and YouTube. A couple of weeks ago, it was revealed that two popular YouTubers — Trevor Martin and Thomas Cassell, known as TmarTn and ProSyndicate, respectively — were key figures in CSGO Lotto. They heavily promoted the site on their channels without any sort of disclosure that Martin was the site's president and Cassell its VP. That seems like a thing they should have disclosed!
At the same time that Martin and Cassell were trying to claim that they hadn't misled viewers, another streamer named PsiSyndicate claimed that he had made a deal with one such gambling site, Steam Lotto, to rig the lottery in his favor. He'd claim to have won great prizes on the site by chance, when in fact he had received the winnings in exchange for promotion to his 500,000-plus followers on YouTube. He was like a 21st-century version of the plant who wins at three-card monte right before some sucker shows up to watch.
Earlier this week, James "PhantomL0rd" Varga (great user-name), who has 1.3 million followers on Twitch, was banned from the service after it was alleged that he owned a stake in another gambling site, CS:GOShuffle. Yesterday, members of FaZe Clan, one of the most popular gaming leagues online, were called out for conspiring with the website CSGO Wild. The site's co-owner Gagey, said in a message that members of FaZe "were paid in cash, skins, and emeralds to be used to bet with on our website." The deal ended when CSGO Wild stopped serving U.S.-based customers. Presumably, if you're not in the U.S., you're still getting played.
In response to this whole mess, Valve has started taking legal action against the sites. Last week, Valve employee Erik Johnson posted an update, writing:
Since then a number of gambling sites started leveraging the Steam trading system, and there's been some false assumptions about our involvement with these sites. We'd like to clarify that we have no business relationships with any of these sites. We have never received any revenue from them. And Steam does not have a system for turning in-game items into real world

 

currency.
While technically true, interest in the gambling sites has obviously encouraged more players to purchase CS:GO itself and to buy and sell weapons. Valve has definitely profited off of them indirectly. Not speaking out against the gambling sites has been a very effective tactic for getting teenagers to buy their Terrorist Gun Boys Simulator.
This week, the company sent cease and desists to 23 sites, claiming that they had violated the Steam Subscriber Agreement by using the API to build virtual gambling venues, and hoping to quash the issue once and for all.
This entire hydra-headed scandal has exposed something that has been known for a long time but often goes unstated (or understated): Popular streamers are often compensated by the companies and products that they cover. The Let's Play and e-sports genres of online video have exploded from mere curiosity into a sponsored-content economy in which the largest personalities can charge for placement or set up schemes to bilk viewers. The Counter-Strike mess will cast a long shadow over streamers for a long time.