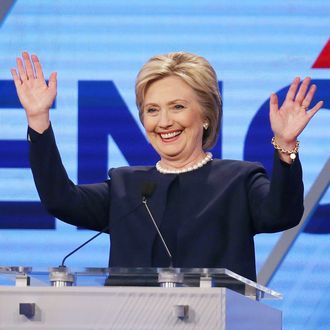 Photo: Joe Raedle/Getty Images
Later this July, Republicans and Democrats will each hold national conventions to select their party's official presidential candidate. And now Twitter won't just be a place to make fun of what candidates are wearing or proffer a well-timed West Wing joke — you'll also be able to watch the nominating action live on the platform.
Twitter announced on Monday that the company has struck a deal with CBS and will be offering a livestream of both conventions, Recode reports. The stream, featuring live coverage from the network's digital news streaming service CBSN, will be free and available even if you don't have a Twitter account. Which could be a good way to entice non-Twitter users over to the platform. However, there is always the chance that they'll mosey over, watch the conventions, and still not join.
This isn't Twitter's first foray into the livestreaming world. The company also has a deal with the NFL to stream games this fall, Recode notes. Though, if Twitter is really looking for some foolproof live content, we suggest it start looking at animals, not humans. Much more fun.