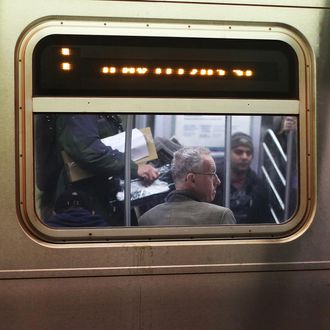 Delays? At least I got a seat.
Photo: Spencer Platt/Getty Images
"Stop delaying my life @MTA," a straphanger philosophized on Twitter as New York City's subway system was in the throes of a mysterious "electrical issue" that sparked massive delays across the subway system Wednesday afternoon. The numbered lines — the 1,2, and 3 and 4,5, and 6 trains — experienced the bulk of those problems, with residual delays lasting into the evening rush on those routes.
But sources told The Wall Street Journal that the MTA is investigating the possibility that a contractor, who was working at the rail control center, somehow disrupted the system. In other words, the MTA might be trying to figure out if one person brought America's busiest subway system to its knees.
Whoever that guy or girl is, you should try to avoid an estimated 6 million subway riders for a few days. But hey, at least it wasn't a monkey.