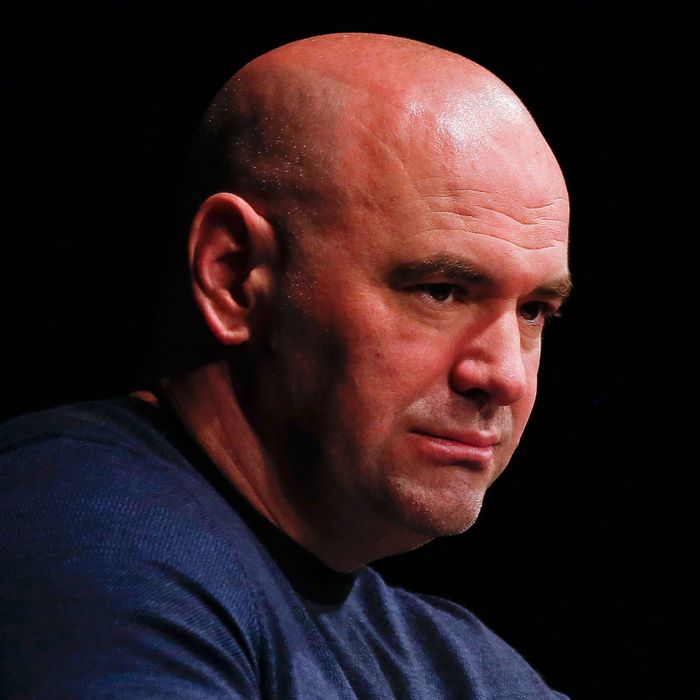 UFC president Dana White.
Photo: Jeff Zelevansky/Getty Images
The list of speakers at the Republican National Convention Tuesday night includes a handful of GOP politicians who love Donald Trump, others who are still coming around, two of his own children, a rival turned manservant, and the president of the Ultimate Fighting Championship, thumb-shaped man Dana White. With Trump's wish list of athlete speakers failing to materialize in Cleveland, White will be the biggest sports-world star — unless you happen to be a Fran Tarkenton fan — to take the stage at Quicken Loans Arena.
But why is a cage-fighting promoter speaking at the Republican convention? The 46-year-old Las Vegas resident says he has no interest in politics. In December he told Yahoo, "I'm not a political guy at all, not even a little bit." He agrees with Democrats on some issues and Republicans on others, although we don't know what they are because he's never said.
And that's how you know he's being honest when he says he's not a "political guy." If White had any thoughts on politics, he'd share them. The man is nothing if not loquacious and unfiltered. His tendency to pop off without considering the consequences has enraged both conservatives and liberals over the years. But he stays away from politics.
When White takes the stage at the RNC he'll say little about the issues relevant to the presidential campaign. Instead, as he told TMZ, "It will be about my relationship with Trump and the Trump that I know." That relationship goes back to the early years of the UFC, when White was trying to convince the country that MMA was more than a backyard blood sport. With the UFC struggling to find a home for its events, Trump offered the Taj Mahal in Atlantic City. "Not only did we host the events there, he actually showed up and supported the events. You will never hear me say a negative thing about Donald Trump," he told TMZ in December.
"I'm a loyal person, man, and people who have been good to me in my life, I don't forget and I stand by them," he said in a Yahoo interview a few days later.
So when it's time to vote for president, White's casting his ballot for Trump, and when the Republican nominee asked him to speak at the convention, White said yes.
But if that explains why White accepted Trump's invitation, what explains the invitation in the first place? For starters, White is a business success story, and tonight's program has an economic theme. In 2001, he convinced his friends the casino-owning Fertitta brothers to buy the UFC for $2 million. He was immediately installed as president and, thanks to his skills as a promoter, began to grow the UFC from grotesque sideshow into the mainstream — still somewhat grotesque — success it is today. Last week, his hard work paid off when a group led by WME-IMG bought the UFC for $4 billion. White reaped a reported $360 million in the sale, and it's hard to argue he doesn't deserve it. He's controlled nearly every element of the UFC, all the way down to the fighters' entrance music, over the past decade and a half.
Beyond appreciating White's skills as a businessman, it's hard to imagine Trump not seeing a bit of himself in the man. Just like many of the other sports figures who support Trump (Bobby Knight, Don King, John Daly), White is an outsider who made his name thumbing his nose at the Establishment. Remind you of anyone?
Trump's admiration of White surely extends to his handling of the press too. Like Trump, White is thin-skinned and foul-mouthed. Last month, he banned a journalist from covering the UFC because he broke the news of an upcoming fight, stealing White's thunder. The ban was quickly lifted. And here's White in 2009 nearly popping a vein in his giant head over a journalist who dared question his claims about the growth potential of MMA.
Last month at a rally in Virginia, Trump told the crowd that he wanted to do the convention a little differently and bring in "some of the great sports people who like me a lot." He mentioned Tom Brady, Ben Roethlisberger, Bobby Knight, NASCAR executive Brian France, and White. He wanted to see these men at the convention instead of "politicians who are going to get up and speak and speak and speak."
Before long, though, they started pulling their names out of the running. Trump's "winner's evening" had crumbled. But he managed to hang on to White.
And if the speech goes well, can we expect to see Dana White take a job in the Trump administration? A cage-fighting impresario has never held a cabinet position in the U.S. government, but the 2016 election seems to be all about firsts, so maybe don't bet against seeing a Secretary Dana White.