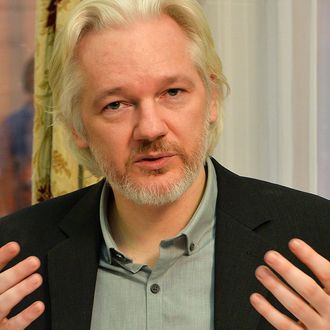 A Bernie bro?
Photo: John Stillwell/AFP/Getty Images
WikiLeaks founder Julian Assange refuses to say whether the Russians are behind the Democratic National Committee email hack, though signs point in the direction of a meddling Moscow that might prefer a Trump presidency. The Kremlin has denied the allegations, but whichever agents are behind the attack sound as if they have more catnip for the GOP candidate and many more headaches for Clinton.
Assange told CNN in an interview that he had "a lot more material" about the United States election campaign, in addition to the 20,000 DNC emails posted on WikiLeaks that show the Democratic National Committee strongly favored Hillary Clinton as the nominee over Bernie Sanders. He added that the Clinton campaign's rush to put the blame on Russia raised "serious questions … about the natural instincts of Clinton that when confronted with a serious domestic political scandal she tries to blame the Russians, blame the Chinese, et cetera," Assange said. He added that instinct could cause "problems" if she were to take office.
The New York Times reports that Assange hinted in an interview with Democracy Now! that he had timed the DNC document release to coincide with the convention's start — which succeeded in scrambling the Democrats' "unity" message after the convention got off to a tumultuous start and sparked the resignation of chairperson Debbie Wasserman Shultz. Assange explained the document dump:
Often it's the case that we have to do a lot of exploration and marketing of the material we publish ourselves to get a big political impact for it. But in this case, we knew, because of the pending DNC, because of the degree of interest in the U.S. election, we didn't need to establish partnerships with The New York Times or The Washington Post. In fact, that might be counterproductive, because they are partisans of one group or another.
Assange also apparently dropped a red herring about the leaks earlier in a June 12 interview, in which he said that WikiLeaks had "great" emails related to Hillary Clinton "pending publication." As the Times pointed out, many outlets reported on Assange's comment, but it sounded as if he were referring to that other big email scandal. Assange stressed that "there's very strong material both in the emails and relating to the Clinton Foundation."
Assange, who has been openly critical of Clinton and what he sees as her anti-freedom-of-speech and pro-war tendencies, sounds a little bit like a Bernie or Bust bro. In another part of his Democracy Now! interview, he described America's presidential choices: "Well, you're asking me, do I prefer cholera or gonorrhea? Personally, I would prefer neither."