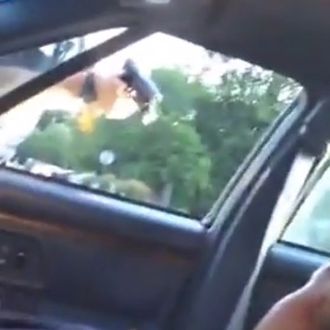 Almost exactly two days after a fatal police shooting in Baton Rouge that sparked a new round of Black Lives Matter protests, a woman shared video of the horrifying moments after her boyfriend was shot during a traffic stop in Falcon Heights, Minnesota. In the video, Diamond Reynolds says the officer asked her boyfriend, 32-year-old Philando Castile to pull out his license, then shot him when he informed the officer that he had a firearm, and a conceal-and-carry permit. "He was trying to get out his ID and his wallet out of his pocket and he let the officer know that he had a firearm," Reynolds says. "He was reaching for his wallet, and the officer just shot him in his arm."
Castile's mother said he died at Hennepin County Medical Center, according to CBS News. Reynolds was in custody Wednesday night.
Reynolds posted the video on Facebook Live with Castile bleeding next to her in the driver's seat, and an officer still pointing a gun at her. The officer, who is very emotional, shouts, "I told him not to reach for it! I told him to get his hand out." Reynolds answers calmly, "You told him to get his ID, sir, his driver's license."
"Oh my God, please don't tell me he's dead. Please don't tell me my boyfriend just went like that," Reynolds says. Then she's told to exit the car, and the video shows several officers pointing their weapons at her, and one standing back with her 4-year-old daughter in his arms. It's unclear if the girl was in the car during the shooting. Reynolds is handcuffed and the video focuses on the sky for several minutes. Then, Reynolds broadcasts again from the back of the police car. She's handcuffed but the video shows her face, and her daughter in the car with her. "My boyfriend, I don't know what condition he's in, I don't know if he's okay or he's not okay," she says.
The video was removed from Facebook, but was re-posted on various social-media sites. Warning: the video below is graphic and disturbing.
St. Anthony police issued a statement confirming that there was a fatal officer-involved shooting at about 9 p.m., and "a handgun was recovered from the scene." The Minneapolis Star-Tribune reports that the Minnesota Bureau of Criminal Apprehension is investigating.
Family members told the paper that Castile has worked in a school cafeteria for 12 to 15 years. "They killed my son," Valerie Castile, his mother, said as she left the emergency room. "They took a good man, a hard-working man; he worked since he was 18 years old." Philando's sister sobbed, "They killed my brother. They held a gun on him while he was hurting, and did nothing to help him."
Castile did not receive any medical assistance for at least several minutes in the beginning of Reynolds's video, but a woman who lives near the scene did post video of an officer performing CPR:
Several hours after the shooting, dozens of protesters had already gathered at the site, and #FalconHeightsShooting was trending on Twitter.