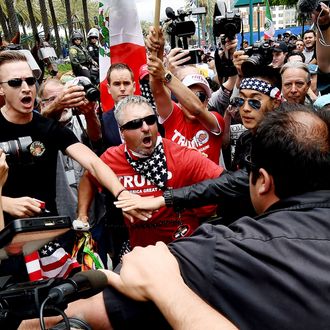 Cleveland rocks.
Photo: Mark Ralston/AFP/Getty Images
Donald Trump looms over Cleveland like Godzilla over Tokyo.
For more than a year, the mogul has been stoking America's latent conflicts as though our country were a reality show and he its lead producer. His demagogic attacks on Muslims, undocumented immigrants, and the ISIS sympathizer in the Oval Office have already inspired violent clashes between his supporters and detractors. Protesters and Trumpists tussled in Chicago. White nationalists and anarchists had knife fights in Sacramento. Now the Republican Party is preparing to hold Trump's coronation in a city riven by racial inequity, one in which the legitimacy of law enforcement has recently come into question. Political conventions are always magnets for protest and disorder. But, this year, authorities are expecting something a bit louder and more dangerous and unpredictable than normal — which is to say, something Trump-tacular.
Here's a guide to the security challenges Cleveland faces, and how the city plans to meet them.
The threat level.
FBI special agent Stephen Anthony told reporters Tuesday that there is no evidence of specific, credible threats to security at the convention. However, Anthony did say that he was concerned about the possibility of a lone-wolf attack, akin to the one perpetrated against the Dallas police last week.
The "safety" gear.
"They are ready."
That's the three-word answer Secret Service director Joseph P. Clancy gave to The Plain Dealer when asked to assess the Cleveland PD's state of preparations. And there's no question that the department is fully "geared up." The federal government provides convention hosts with a $50 million gift certificate to be spent on the security contractors of their choice. The Washington Post has catalogued some of the big-ticket items from Cleveland's spending spree:
▪              2,000 sets of full riot gear

▪              2,000 26-inch retractable steel batons

▪              2,500 steel barriers stretching about 3.7 miles

▪              2,400 portable and wearable hydration pacs

▪              15 motorcycles and 310 sets of protective clothing for riders

▪              310 police bikes and protective gear

▪              Three horse trailers

▪              10,000 sets of plastic handcuffs

▪              Two night-vision devices

▪              Body armor, including anti-ballistic helmets, groin, arm, chest, and leg protection

▪              16 Pointer Illuminator Aiming Lasers

▪              A video surveillance system
The city has also been stocking up on an unspecified amount of tear gas. Politicians from both parties may occasionally argue that police departments shouldn't resemble occupying armies, but when the going gets tough, the police get militarized.
The lit match dangling above the kerosene.
The police will establish a 1.7-square-mile "secure zone" where convention events and protests will be concentrated.
Here are some things police will not allow in the secure zone, to ensure the safety of the political leaders, reporters, and citizens who pass through it: swords, axes, hatchets, brass knuckles, slingshots, and BB guns.
Here are some things police will allow in the secure zone: actual guns.
Since the only thing that can stop a "bad guy" with a gun is a "good guy" with a firearm-themed fantasy life, the state of Ohio has barred itself from regulating the carrying of guns.
Wield a slingshot outside the RNC, you'll find yourself trying on a fresh pair of plastic handcuffs. But you can carry your licensed Glock right up to the convention gates (as a private entity, Quicken Loans Arena has the right to restrict the possession of firearms within its confines and has exercised that prerogative).
After last week's attack in Dallas, some former supporters of open-carry laws have started to wonder if there might actually be a flaw in the "more guns = more safety" equation.
"If you had some mass confusion, even if you had a civilian who was carrying who would attempt to help out, I think the mentality of any law enforcement officer would see an individual with a gun, would see an individual possibly shoot and would react to that," Brian Kazy, a member of the Cleveland City Council, told the New York Times.
But the laws aren't changing any time soon. And Ohio's permissive gun policies are not lost on some of the extremist groups who are making their way to Cleveland, a point we'll return to in just a bit.
The best places to commit crimes in Cleveland next week.
Pretty much anywhere outside the immediate vicinity of Quicken Loans Arena. According to Cleveland police chief Calvin Williams, the city will dedicate 500 of its 1,500 police officers to the convention itself, while many others will be ready to join them at a moment's notice. Those 500 will be backed up by an unspecified number of officers from neighboring jurisdictions.
The siege-proof hospitals.
Cleveland's hospitals are barring their trauma surgeons from vacationing next week, setting up "incident command centers" to centralize decision-making in the event of an emergency, and stockpiling enough equipment to survive 96 hours without re-supply, just in case large portions of the city fall under siege.
"At the suggestion of the Secret Service, we need to be able to act independently for four days," Robert Wyllie, the chief medical operations officer at the Cleveland Clinic, told STAT News.
The latest developments at the department of pre-crime.
Since the middle of June, FBI agents and Cleveland cops have been doing "community outreach" with some of the city's left-wing activists. Or, as the activists see it, stifling their rights to free expression through deliberate intimidation.
"In preparation for the upcoming RNC, the FBI along with numerous federal state and local law enforcement agencies are working collaboratively with members of the community," FBI spokesperson Donna Sullivan told The Plain-Dealer. "As part of this preparation, law enforcement is conducting outreach with many individuals to ensure a safe and secure environment for the RNC."
An organizer with the local chapter of Food Not Bombs, a left-wing group that plans to distribute food (not bombs) at the RNC, was less enthusiastic about the "door knocks" her fellow activists had been receiving.
"There's an implication of force behind [the visits]," Maggie Rice told the paper. "They say that they're friendly and just talking, but it still implies that there could be consequences there."
In preparation for mass arrests, Cleveland has set aside enough jail facilities to house more than 975 unruly protesters and will keeps its courts open for 20 hours daily to process cases, the New York Times reports.
At the 2012 RNC in Tampa, Florida, local police were able to infiltrate — and, in some cases, become the leaders of — the city's protest organizations.
The outside agitators.
The New Black Panther Party is one of America's largest and most influential African-American political movements — in Fox News' fevered imagination. In truth, the organization is a ragtag collection of aging activists, with little buy-in from the ascendant generation that has powered the Black Lives Matter movement. Nor are the New Black Panthers held in high regard by many of the old Black Panthers. Nonetheless, the Southern Poverty Law Center deems the radical black-nationalist group "a virulently racist and anti-Semitic organization whose leaders have encouraged violence against whites, Jews and law enforcement officers." And they're heading to Cleveland, with guns in tow.
"If it is an open state to carry, we will exercise our second amendment rights because there are other groups threatening to be there that are threatening to do harm to us," Hashim Nzinga, chairman of the New Black Panther Party, told Reuters on Wednesday.
Bikers for Trump, a group of 20,000 motorcycle-riding, Donald Trump–supporting leather enthusiasts will also be descending on the North Coast. And like the New Black Panthers, they're bringing firearms, for the sake of self-defense.
"We are not looking for a fight, but at the same time, if someone starts one, we won't back down," the group's founder (and celebrated chainsaw artist) Chris Cox told the Daily Beast in April.
Another biker expressed his commitment to protecting his comrades more emphatically, saying, "If that means us having to protect ourselves by taking someone else's life, that's what we're going to have to do."
Three months ago, the bikers were preparing to defend Trump's right to the nomination against traitorous delegates. Now they're focused on protecting their rights of free expression against "paid thugs" and "leftist idiots." "Big" Jim Williams of Phoenix, Arizona, will be in Cleveland for the festivities and he has implored his fellow bikers in Riders U.S.A. to join him, in a letter obtained by Breitbart:
The fact of the matter is we have become a nation of slaves … Now more than ever we need to come together as a nation and stand against tyranny and corruption. We need to stand against paid thugs and show them that things are done differently in America. If we don't stand now, in Cleveland we are giving it to the third world thugs and will never get it back. We will soon be like every other cess pool of socialism or communism that these people are coming from and the things that we are so addicted to, that kept us from standing up will be gone and we will be powerless, living life the way we are told to live it. Our lives will be worthless and meaningless.
Citizens for Trump, a comparatively moderate pro-Donald organization, will try to keep "Big" Jim from giving the "third world thugs" too hard of a time. The group's director, Tim Selaty, has banned AR-15s and sniper rifles from the "The America First Unity Rally," a celebration of Trump's incipient nomination scheduled for Monday. (Regular handguns will be welcome). The event, which the Daily Beast has nicknamed "Woodstock for Wingnuts," will offer police their first major security challenge. Aside from the band of bikers, alt-right group Eternal Sentry, InfoWars host Alex Jones, and African-American R&B duo "Stump for Trump girls" will also be in attendance.
The "Coalition to Stop Trump and March on the RNC," an umbrella group of left and liberal organizations, has its own rally planned for Monday.
Meanwhile, the Traditionalist Worker Party, a kinder, gentler white-nationalist group (the organization officially opposes white "supremacy," but argues that the races should be kept separate), will also be making the trek to Cleveland. The group is best known for getting in a stabbing fight with left-wing protesters in Sacramento last month.
There are hundreds of other outside groups, on both the left and right, who plan to make their presence felt. In total, authorities expect 50,000 people to visit the city next week.
The Drew Carey Show opening theme.
The elephant in the precinct.
Cleveland will be the first city to host a national, major-party convention while it's police force is under a consent decree with the federal government. Since October 2015, a federal monitoring team has been overseeing the city's police department, after a Justice Department investigation found that Cleveland cops engaged "in a pattern or practice of using unreasonable force in violation of the Fourth Amendment." Such practices included:
The unnecessary and excessive use of deadly force, including shootings and head strikes with impact

 

weapons;
The unnecessary, excessive or retaliatory use of less lethal force including tasers, chemical spray and

 

fists;
Excessive force against persons who are mentally ill or in crisis, including in cases where the officers were called exclusively for a welfare check;

 

and
The employment of poor and dangerous tactics that place officers in situations where avoidable force becomes inevitable and places officers and civilians at unnecessary

 

risk.
The most infamous recent example of the Cleveland police's affinity for deadly force was the 2014 killing of 12-year-old Tamir Rice.
As Mother Jones notes, the monitoring team released a report in June that described the department's capacity for investigating officer misconduct as "dire." While the city has agreed to reform its use-of-force policy and internal-review protocol, these changes have yet to be fully implemented.
In this context, many of the measures that the Cleveland police are taking to maintain the peace — the military gear, tear gas, and 10,000 handcuffs to facilitate mass arrests — threaten to undermine it, by exacerbating the local community's sense of alienation from its law enforcement.
Alfred Porter Jr., president of Black on Black Crime, Inc., a decades-old anti-violence organization, told CNN that he expects the police "to be dressed up like RoboCop, with snipers on the roof."
"Our message is not only against Donald Trump, it's issue based," Porter said. "Our speaking will deal with the fact that the city of Cleveland spent $54 million on the downtown area and our inner cities are bleak."