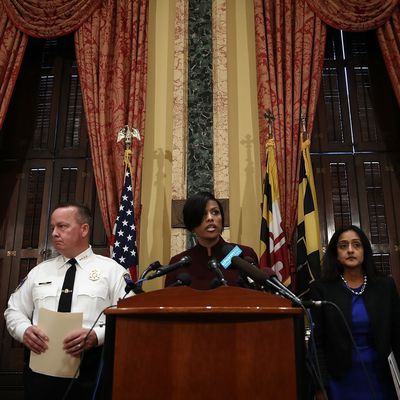 Baltimore mayor Stephanie Rawlings-Blake.
Photo: Win McNamee/Getty Images
On Tuesday, Baltimore police commissioner Kevin Davis said that he was looking forward to reviewing the final results of the Justice Department's year-long investigation into his department.
"We have begun this journey to reform long-standing issues in many real, tangible ways," Davis told the Baltimore Sun. "DOJ's findings will serve to solidify our road map."
Those findings proved to be incendiary: The Justice Department's report accuses the Baltimore Police Department of routinely violating the constitutional rights of residents by subjecting them to unlawful stops and excessive force.
The primary victims of such practices were the city's black citizens, a sadly predictable conclusion that the DOJ documents in a catalogue of grim statistics: Ninety-five percent of residents who were stopped by BPD more than ten times over the past five-and-a-half years were African-American. Of all vehicle stops conducted during that time, 82 percent involved black drivers, even though African-Americans account for only 60 percent of driving-age Baltimoreans. Black residents made up 91 percent of those charged with "failing to obey" an officer, and 84 percent of those charged with "disorderly conduct."
But the evidence for BPD's discriminatory approach to policing isn't just quantitative; the report also found that "supervisors have issued explicitly discriminatory orders, such as directing a shift to arrest 'all the black hoodies' in a neighborhood."
On Wednesday afternoon, Davis announced that six Baltimore police officers had been fired this year* for committing the kinds of egregious violations documented in the report.
The Justice Department launched its investigation in April 2015, after a 25-year-old black Baltimore resident named Freddie Gray died of spinal injuries sustained while in police custody.
Baltimore state attorney Marilyn Mosby brought criminal charges against the six police officers involved in Gray's arrest. Three were acquitted at bench trials, however, and Mosby recently dropped all charges against the remaining officers.
The Justice Department performed a similar probe of the police department in Ferguson, Missouri, following the death of Michael Brown. It turned up similar results.

*This post has been corrected to show that officers were fired for offenses related to the report, but not in response to the release of the report itself.