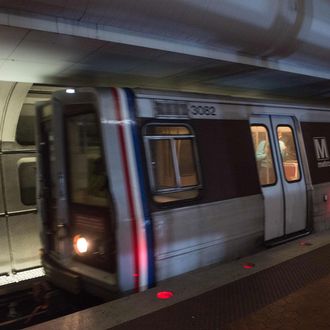 Photo: Nicholas Kamm/AFP/Getty Images
Police in Washington, D.C., arrested the nation's first police officer accused of terror-related charges on Wednesday.
Nicholas Young, a 13-year veteran of the D.C. Metro Transit police, is accused of providing material support for ISIS by sending money for mobile messaging accounts often used for recruiting.
Young — who traveled to Libya, where he says he helped fight Muammar Qaddafi's regime — was never actually communicating with ISIS, though. Instead, he was ensnared by the FBI's Joint Terrorism Task Force and its undercover officers.
Investigators first began looking into Young after Metro police noted "concerns" about him. As far back as 2011, Young met with an undercover agent expressing an "interest in terrorism-related activity," according to court records. Young also met many times with an FBI informant who posed as an Army reservist who wanted to join ISIS. Young often communicated his admiration for ISIS terror attacks to the informant and bragged about his Jihadi John Halloween costume.
Last week, Young finally crossed a line when he tried to send $245 worth of gift-card codes to ISIS to assist in recruiting. Of course, the gift-card codes he sent went to the FBI, not ISIS. If convicted, Young could go to prison for 20 years.