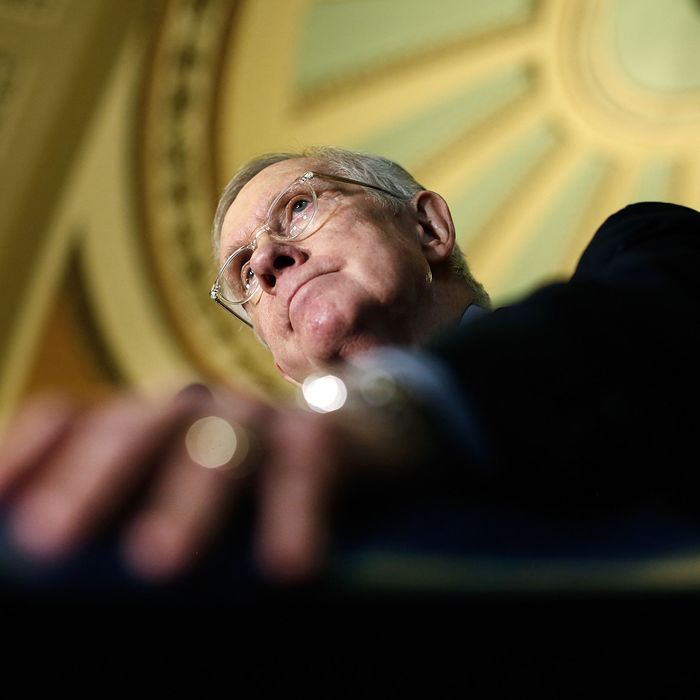 Harry Reid would love to beat the Koch brothers' candidate in the race for his own seat.
Photo: Win McNamee/Getty Images
If you look at the chart the fine folks at Cook Political Report put together for U.S. Senate races this fall, you immediately notice one lonely Democratic seat that is deemed vulnerable (a toss-up or "lean" race): in Nevada. You will also notice there are five Republican seats in the vulnerable categories. Since Democrats need four seats to take control of the Senate — assuming Hillary Clinton wins the White House — that means that if they lose Nevada, they must then sweep all the other competitive races to meet their goal and snatch the gavel away from Mitch McConnell.
The Nevada seat, of course, currently belongs to the Democrats' leader in the Senate, Harry Reid, who is retiring this year after 30 years in the upper chamber. He would dearly love to hand McConnell's gavel over to his designated successor, Chuck Schumer, and would obviously love to turn his own seat over to a fellow Democrat.
But there's another aspect to the race between Democrat Catherine Cortez Masto, a former Nevada attorney general, and Republican Congressman Joe Heck. It represents what can only be called a grudge match between Reid and conservative billionaires Charles and David Koch. Reid has made a habit of blasting the Kochs and their large-scale exploitation of loose campaign finance rules to buy the kind of office holders they want to protect the interests of their fossil-fuel empire and reflect their laissez-faire economic philosophy. The Koch Brothers are notoriously touchy about being fingered in public for their political involvement; they once got their attorney, former solicitor general Ted Olson, to pen a bathetic Wall Street Journal op-ed on how the bros were being victimized by President Obama's public criticism of them. With the Kochs having decided to more or less give the presidential contest a pass this year, the Senate is the object of attention for their complex network of political donors. And it's not surprising Nevada is Job One.
It's safe to say this has gotten very personal. Reid calls Heck "a stooge for these right-wing nut cases." One of the Koch network operatives in the state refers to Reid's "petty bitterness." Both camps are trying to tie their opponents to their party's less-than-sensationally-popular presidential candidates.
Four separate Koch Network organizations are active in the Cortez Masto–Heck race, spending (so far) over 5 million smackers on Heck's behalf and engaging in door-to-door canvassing, not just TV ads. One Koch-backed group focused on "education" of Latino voters, the Libre Institute, is working to undermine Cortez Masto's base; if elected she would become the first Latina in the Senate.
Heck and Cortez Masto are running very close in the polls, with handicappers giving a slight edge to the Republican at the moment. But it could definitely go either way. And if Reid would love to turn a Democratic Senate over to his successor, you better believe the Kochs would love to deny Democrats this prize, with the personal displeasure this would cause Reid representing a definite bonus. If you assume the presidential race has monopolized this year's political nastiness, take a look at Nevada and think twice.