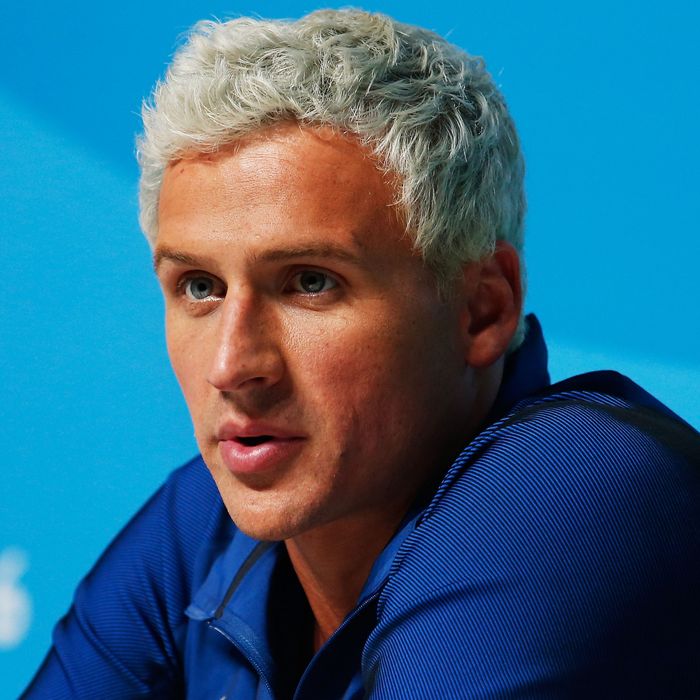 Ryan Lochte.
Photo: Matt Hazlett/Getty Images
Brazilian police revealed new evidence Thursday that tore apart the story Ryan Lochte and his U.S. swimming teammates told about being mugged at gunpoint in Rio de Janeiro. Now Lochte, the man at the center of it all, has issued an apology about the incident on Instagram. In it, he apologizes for not being "more careful and candid in" how he described the events, but adds that it was "traumatic" to have a gun pointed at him and his teammates, especially given the language barrier. "I accept responsibility for my role in this happening and have learned some valuable lessons," he writes.
Brazilian police had recommended late Thursday that Lochte and his teammate James Feigen be charged with falsely reporting the crime and lying to authorities. (Lochte and Feigen are the only two of the four swimmers involved who initially talked to investigators about the incident.) Prosecutors had to decide whether to indict the two Olympians, though it appears that at least Feigen has reached an agreement with prosecutors to avoid indictment.
Feigen, who was initially barred from leaving Rio de Janeiro, has reportedly cut a deal with Brazilian authorities to donate $11,000 (or 35,000 Brazilian real) to a charity to have his passport returned so he can head back to the United States, according to his attorney. It's not clear yet which organization will receive those funds. Lochte arrived back in the United States earlier this week.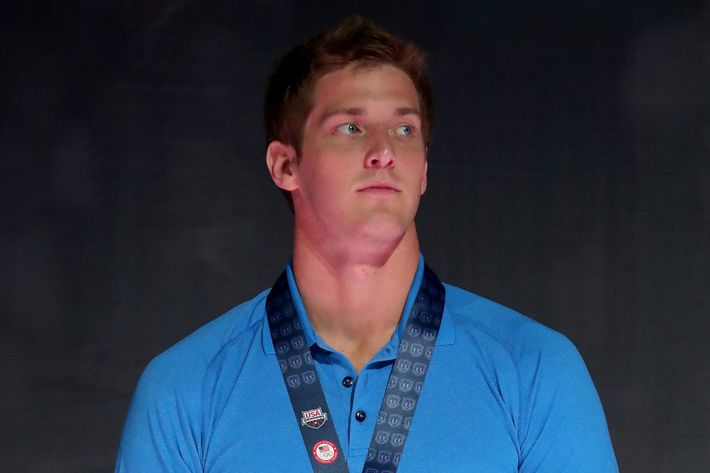 The controversy over whether the swimmers were actually robbed took a bizarre turn Thursday. Brazilian police have indicated that the mugging never took place, but instead involved a confrontation at a gas station with armed security guards. Authorities have a surveillance video that reportedly shows the swimmers damaging the door of a gas-station bathroom and getting into a dispute with gas-station guards on the night they claimed they were mugged. They apparently trashed the bathroom, in addition to damaging the door, and the gas-station manager demanded cash for the destruction — and the swimmers paid up, according to Reuters.
G1, a Brazilian TV station, aired the footage from the gas station, in Barra de Tijuca, en route from Club France, where the swimmers were partying, and their dorms in the Olympic Village. The video shows what is apparently the swimmers trying to get into a locked bathroom. At least one of them manages to get in (though it doesn't show any vandalism). Soon after, a gas-station guard confronts the Olympians.
Brazilian police now say that two security guards did, in fact, point guns at Lochte and his teammates. Officers interviewed the security guards, who confirmed that they brandished their weapons when they went to check out the commotion near the bathroom. (Earlier reports suggested that the guards were armed but never took out their firearms.) Fernando Veloso, the chief of Civil Police, said no robbery occurred, and that the swimmers "were not the victim of the criminal act they described."
At some point after that confrontation, the swimmers returned to their taxi, but the driver did not pull away. According to G1, the gas-station manager called police, but officers were slow to arrive. So the gas-station manager found a customer to translate, and the swimmers agreed to pay for their vandalism — apparently offering 2o dollars and 100 Brazilian real (one real is a little more than 30 U.S. cents). It's unclear if that's the sum the swimmers paid, but eventually they did turn over cash. The police never showed up. The swimmers got into the taxi and left.
Brazilian police first indicated that Lochte made up the entire mugging story to cover up this gas-station episode. Lochte had original said armed men with police badges had held them up at gunpoint and took money, but not cellphones.
Jack Conger and Gunnar Bentz, the two swimmers pulled from their U.S.-bound planes on Wednesday, reportedly spoke with Brazilian police and said Lochte had made up the assault.
Veloso had said previously that the athletes owed Rio de Janeiro an apology. "The only truth that they told is that they were drunk," he said earlier. Others are demanding apologies from the swimmers and the U.S. Olympic Committee for fueling this extreme story about street crime, a sensitive subject for the country, which was heavily scrutinized about its security preparations ahead of the Games.
The U.S. Olympic Committee, which had stayed largely silent, finally issued an apology late Thursday about the "distracting ordeal":
"The behavior of these athletes is not acceptable, nor does it represent the values of Team USA or the conduct of the vast majority of its members. We will further review the matter, and any potential consequences for the athletes, when we return to the United States."
Earlier Thursday, Rio 2016 spokesperson Mario Andrada defended Lochte and his teammates. "These kids tried to have fun, they tried to represent their country to the best of their abilities," Andrada told reporters. "They competed under gigantic pressure. Let's give these kids a break. Sometimes you take actions that you later regret. They had fun, they made a mistake, life goes on."
The Brazilian authorities certainly took the events seriously, which turned into an international incident on Wednesday when Conger and Bentz were removed from their flight back to the United States.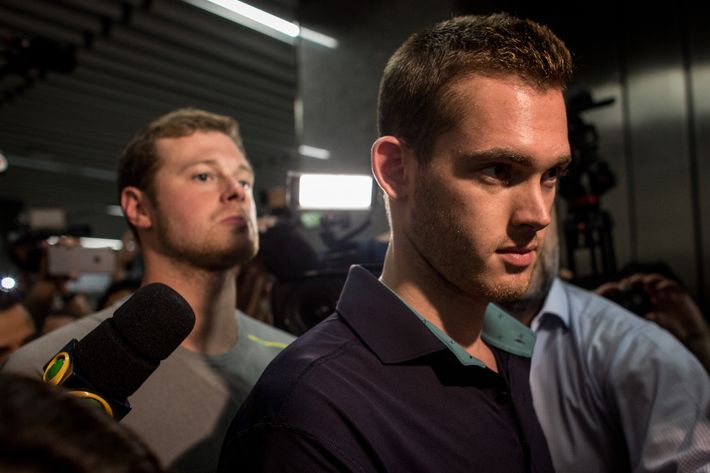 The two swimmers were awaiting takeoff when agents from Brazil's Federal Police, which oversees the nation's borders, boarded the plane. Video that aired on the Globo TV network showed Conger and Bentz being escorted to the police station in the airport, according to the Washington Post.

"Jack Conger and Gunnar Bentz were detained Wednesday night shortly before their flight was scheduled to depart from Rio," the U.S. Olympic Committee said in a statement. "They were released by local authorities with the understanding that they would continue their discussions about the incident on Thursday. James Feigen is also communicating with local authorities and intends to make further statements regarding the incident on Thursday as well."
Earlier on Wednesday, Judge Keyla Blanc de Cnop ordered police to seize the passports of Ryan Lochte and fellow American swimmer Jimmy Feigen as the investigation into their alleged mugging on Sunday night continued. However, Lochte had already returned to the United States, and Feigen's whereabouts were unclear. Blanc de Cnop did not mention Conger and Bentz, but Brazil's G1 news reports that another judge ordered that their passports be seized as well.

Judge Blanc de Cnop handed down her order in light of "contradictions in the swimmers' reports," according to a statement from the court, and their seemingly chipper demeanor on surveillance footage taken not long after they say they were mugged. This comes just a day after an Associated Press report that said police looking into the robbery claims "have found no evidence supporting the account," and had trouble getting the swimmers to provide many details in interviews.
So, did Lochte make this whole thing up? His lawyer says no. "This happened the way he described it," Jeff Ostrow told the AP.
The problem is that Lochte and the others swimmers had described it differently. On NBC's Today last Sunday, Lochte said:
"We got pulled over, in the taxi, and these guys came out with a badge, a police badge, no lights, no nothing, just a police badge, and they pulled us over. They pulled out their guns, they told the other swimmers to get down on the ground — they got down on the ground. I refused, I was like, 'We didn't do anything wrong, so — I'm not getting down on the ground.'

"And then the guy pulled out his gun, he cocked it, put it to my forehead, and he said, 'Get down,' and I put my hands up, I was like, 'Whatever.' He took our money, he took my wallet — he left my cell phone, he left my credentials."

This is different from the story Lochte told police (in that version there was one mugger) and different from the story Feigen told police (in that version there were multiple muggers but only one gun).
Lochte tweaked the story again on Wednesday. NBC's Matt Lauer said on air that in a phone conversation Lochte did not describe being pulled over. He said the muggers emerged when their taxi was stopped at a gas station. He also said the gun was pointed in his direction, not placed on his forehead. Lauer said Lochte insisted that the mugging occurred, and this is not just a story concocted to cover for some sort of misbehavior.

Those contradictions are only half of the reason Brazilian authorities were suspicious of the swimmers' story. The other half comes from surveillance footage showing Lochte, Feigen, Conger, and Bentz arriving back at the Olympic Village "with their psychological and physical integrity unperturbed," the judge wrote. The video also shows the swimmers wearing watches and removing wallets and phones from their pockets to pass through a metal detector. Not exactly the possessions one would expect on people who were just mugged.
Further doubt had been cast on the story because none of the four swimmers reported it to police. They said that was "because we were afraid we'd get in trouble." It was only after Lochte told his mother, who mentioned it to the media, that Rio police found out about the robbery. They then began an investigation that included interviews of the swimmers, who admitted that details of the night were hazy because they had been drinking.
This post has been updated throughout.