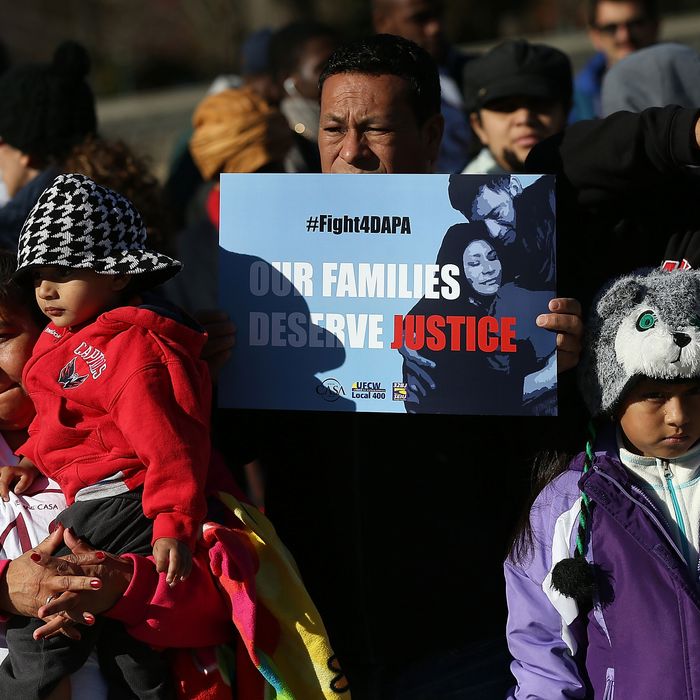 Most Americans agree with this sign.
Photo: Win McNamee/Getty Images
Despite besting 17 rivals in the Republican primary — and attracting large crowds in states like Mississippi — Donald Trump seems to be on his way to a landslide defeat in November's election. The GOP nominee's staunchest backers have struggled to make sense of this baffling phenomenon, with many seeing no other explanation for Trump's polling woes than a vast conspiracy to rig public opinion surveys — and/or the general election, itself.
But the lamestream media's latest (skewed) poll suggests an alternative account of the mogul's troubles: It turns out Trump's base and the rest of the country have radically different opinions about politics.
Only 18 percent of Americans believe that undocumented immigrants "are not as honest and hardworking as U.S. citizens." Among Trump's strongest supporters, that figure is 34 percent — six points higher than among Republican voters, as a whole. Even more starkly, while just 27 percent of all voters think the undocumented are more likely to commit "serious crimes" than are other Americans, 59 percent of Trump's base says the opposite. That puts Trumpists out of step for the majority of their own Party, as 52 percent of Republicans say the undocumented are no more criminal than the rest of us sinners.
But the most significant finding in Pew's survey might be this: A full 57 percent of Republican voters think finding a pathway to citizenship for the undocumented should be one of the priorities of immigration reform. And large pluralities within both parties believe immigration reform should pair such a pathway with "better border security and stronger law enforcement." Which is to say, there is bipartisan support for every immigration reform package Congress has ever killed.
Still, the parties remain divided on the border-wall idea. But among all voters, there's consensus that walling off our southern border is not a worthwhile use of taxpayer (and/or Mexico's) money. Heck, even a majority of white Americans think the wall is a dumb idea.
All of which goes a ways toward explaining why Trump is trying to "soften" his stance on immigration — while refusing to explicitly commit himself to the pathway to legalization that his supporters' vociferously oppose.
Unless, of course, all of this survey data was manipulated by George Soros to conceal the overwhelming popularity of Trump's agenda.
We report, you decide.