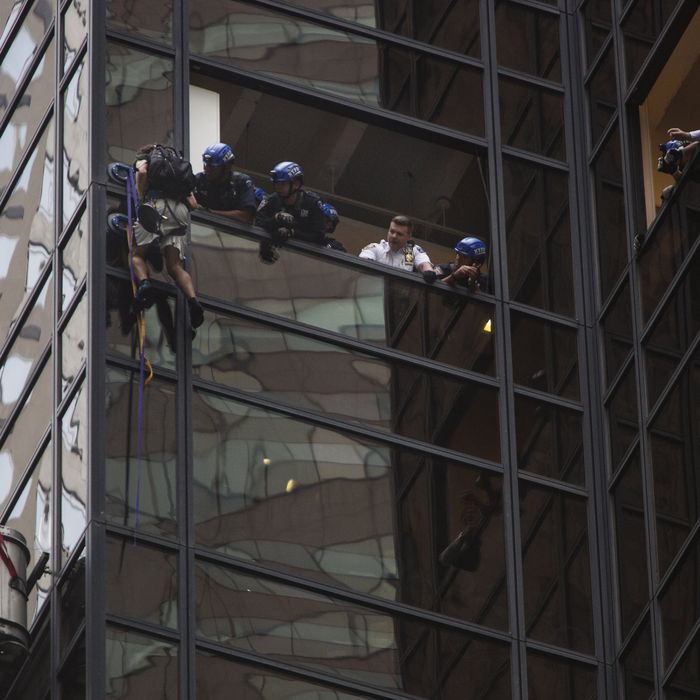 Moments before the NYPD pulled the man into the building.
Photo: Bloomberg/2016 Bloomberg Finance LP
A 19-year-old Virginia man became a social-media star on Wednesday evening when he scaled Trump Tower using large suction cups, but the stunt failed to win him a private audience with the GOP nominee.

The suspect, Stephen Rogata, began climbing the 68-story Manhattan skyscraper around 4 p.m., and managed to evade the police for nearly three hours as they attempted to stop him by breaking windows and ventilation ducts, and lowering themselves toward him in a window washer's platform. Thousands watched on TV, livestreams, and from the street below.

Eventually two officers leaned out of a 21st floor window and yanked him inside, head first. "I reached out. I took hold of his hand and I said, 'Sir, would you come with me,'" said detective Christopher Williams.
NYPD assistant chief William Aubrey said the man told them his only motive was to get a personal meeting with Trump, and "at no time did he express that he wanted to hurt anybody." The video below appears to be a YouTube video the man described to police, in which he claims he's an "independent researcher." "Believe me, if my purpose was not significant, I would not risk my life pursuing it," he says, addressing Trump. "The reason I climbed your tower was to get your attention."
It appears he was unsuccessful. The man was taken to Bellevue Hospital Center for an evaluation, and was charged with reckless endangerment and criminal trespassing. Trump was campaigning in Virginia and Florida during the incident. He did post this tweet:

But people have gotten a bigger reaction out of Trump for posting offensive Hillary Clinton memes from the comfort of their home.

This post has been updated.