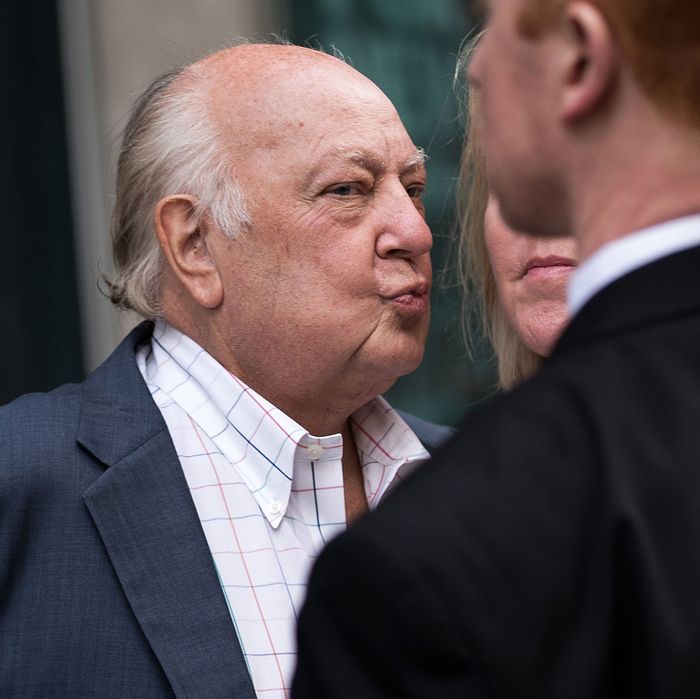 Roger Ailes.
Photo: Drew Angerer/Getty Images
As Rupert Murdoch seeks to stabilize Fox News in the wake of Roger Ailes's ouster, a crucial question remains unanswered: How was Ailes able to spend millions of dollars to settle sexual-harassment claims without setting off alarm bells?
According to three highly placed sources, part of the answer is that there were few checks on Ailes when it came to the Fox News budget. "It was the culture," one Fox executive said. "You didn't ask questions, and Roger wouldn't entertain questions." One former News Corp executive explained that because Fox made more than $1 billion in annual profits, the funds that were used for settlements amounted to little more than "a rounding error."
But with Ailes gone, Fox executives are now looking closely at how Ailes spent Fox money. And what they are discovering is that, beyond the sexual-harassment claims, Ailes was also able to use portions of the Fox budget to hire consultants, political operatives, and private detectives who reported only to him, according to a senior Fox source. Last week, according to the source, Fox News dismissed five consultants whom Ailes had hired to do work that was more about advancing his own agenda than Fox's. One of the consultants, Bert Solivan, ran negative PR campaigns against Ailes's personal and political enemies out of Fox News headquarters, a source said. A Fox News spokesperson confirmed, "Solivan was recently informed that his services were no longer needed." Solivan, who had previously worked for Fox News as a general manager of the channel's website, did not respond to requests for comment.
According to one highly placed source, Solivan worked out of what Fox insiders called "the Black Room," an operation Ailes established around 2011 to conduct PR and surveillance campaigns against people he targeted, both inside and outside the company. The "Black Room" was located on the 14th floor of the News Corp building at 1211 Avenue of the Americas, a quiet part of the office that housed Fox News Latino and some marketing and promotions employees. Fox employees Ken LaCorte and Jim Pinkerton — veteran political operatives who've worked with Ailes since the 1980s — also worked with Solivan, the source said, adding that Ailes's personal lawyer and Fox contributor Peter Johnson Jr. advised the team. (In an email, Johnson denied any involvement in "Black Room" campaigns, saying, "The only online campaign I'm aware of is yours, attempting to create a truth from a fiction with this account.")
Targets of the campaigns included journalists John Cook and Hamilton Nolan, who have aggressively covered Ailes for Gawker. According to one source, private detectives followed Cook around his Brooklyn neighborhood, and Fox operatives prepared a report on him with information they intended to leak to blogs. (According to the source, one proposed line of attack claimed that Cook — whose wife, Slate news director Allison Benedikt, is Jewish — was anti-Semitic.) "I'm honored to be among Roger Ailes's enemies," Cook said.
Fox operatives also targeted Joe Lindsley, the former editor of Ailes's local newspaper, the Putnam County News and Recorder. In April 2011, Lindsley had a falling-out with Ailes and quit the paper, along with two co-workers. Ailes assigned private investigators to follow Lindsley around Putnam County. He also asked Fox host Andrea Tantaros, whom Ailes had once seated next to Lindsley at a dinner party at Ailes's home, to contact Lindsley and report back on his whereabouts, two sources said. Meanwhile, Solivan posted negative comments about Lindsley on blogs, a source said.
I was also the target of an operation, a source told me: In 2012, while I was researching a biography of Ailes, Fox operatives set up webpages to attack my reputation, and Fox funds paid for Google search ads against my name that linked to the sites. One source also said private investigators employed by Fox contributor Bo Dietl were instructed to follow me and my wife.* (Dietl's firm was used to track Andrea Mackris, the producer who accused Bill O'Reilly of sexual harassment in 2004, the source said.) When reached by phone, Dietl said, "I have no real comments. I love Roger Ailes. He built one of the great news channels out of nothing. He's a very successful guy."
The allegations about Ailes's questionable use of Fox resources raise the issue of how much other high-ranking officials knew about his activities. Fox News CFO Mark Kranz, for instance, approved budget expenditures throughout this period, and general counsel Dianne Brandi approved contracts. Through a spokesperson, both Kranz and Brandi said they had no knowledge of expenditures for surveillance and online attacks.

Ailes, through his attorney Susan Estrich, said, "These allegations are totally false."
Meanwhile, Fox executives continue to analyze the list of consultants on Fox's payroll to determine who is doing legitimate work for the network and who was hired by Ailes to do his personal bidding. The senior source said that more people will likely be let go in the days ahead.
* Update: On August 12, Bo Deitl issued a statement in response to the reporting in this story. It reads, in part:
Bo Dietl spoke with Gabriel Sherman yesterday and stated the [sic] he "unequivocally

NEVER

followed Mr. Sherman or his wife". Mr. Dietl also stated that his company was never hired By Roger Ailes, or anyone else for that matter, to perform any work in connection with Mr.

Sherman.