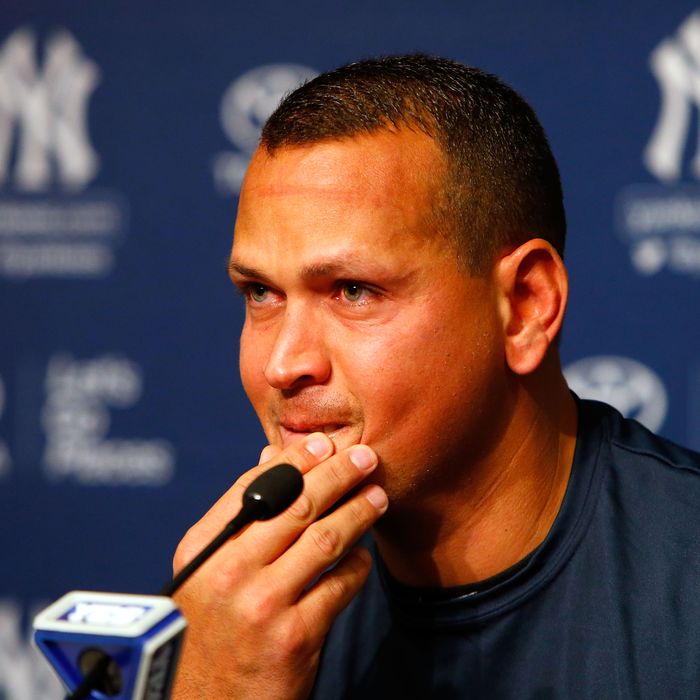 A-Rod repeatedly broke down during the press conference addressing his retirement.
Photo: Jim McIsaac/Getty Images
The New York Yankees announced on Sunday that they are releasing longtime star Alex Rodriguez, who will now play the last baseball game of his storied and sometimes tumultuous career on Friday. ESPN reports that Rodriguez will then move into a role as a special adviser and instructor with the Yankees for the remainder of his contract. "This is a tough day. I love this game and I love this team. And today I'm saying good-bye," the 41-year-old Rodriguez said during an emotional press conference regarding the move, adding, "We all want to keep playing forever, but it doesn't work that way."
The unconditional release of the three-time MVP and 14-time All-Star — who, in his 19th season, is batting .204 and has already lost most of his playing time — is a continuation of the Yankees' effort to rebuild their underperforming team and transition to a roster of younger players. Since Rodriguez's $275 million contract doesn't expire until the end of next year, he is still owed $27 million for what's left of this and next season — making him, by far, the most expensive instructor in baseball history. Yankees general manager Brian Cashman also confirmed on Sunday that no teams expressed an interest in trading for Rodriguez, though he would be free to sign with another team after Friday if he wanted. A-Rod, whose 696 home runs are fourth on the all-time list, already indicated that he would retire after the 2017 season, and said on Sunday that he was looking forward to spending more time with his children.
Yankees general-managing partner Hal Steinbrenner put a positive spin on Rodriguez's new role with the team, saying in a statement, "Alex has already proven to be a willing and effective mentor to many players who have come through our clubhouse, and I am confident that this next phase of his baseball life will bring out the best in Alex and the next generation of Yankees."