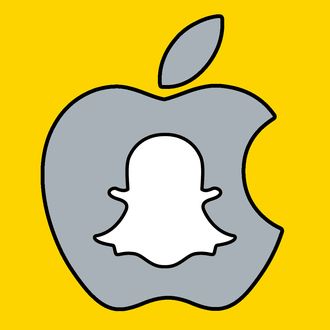 With 150 million daily active users, it's a good time to be Snapchat — and a bad time to be a middle manager at a large tech company that would like a piece of that action. Facebook has spent the last few months mimicking the ephemeral messaging app across a number of different services and features, including Instagram Stories, Instagram Explore, and Lifestage (a standalone video-messaging app just for teens). Now it's Apple's turn.
According to a report from Bloomberg today, the company is reportedly working on a "video sharing and editing application."
From Bloomberg:
Apple is starting to develop a video sharing app that allows users to record video, apply filters and drawings to the media – much like Snapchat does – and send it to contacts or via existing social networks such as Twitter Inc., according to the people familiar with its development. The software is currently being designed to be used mostly with one hand and with the intention that video could be shot, edited, and uploaded in less than 1 minute, the people said.
Videos will reportedly be perfect squares (as in the early days of Instagram) and the standalone app is reportedly slated for 2017.
But as Bloomberg also notes, Apple has scrapped standalone apps before, instead choosing to package them along with their existing products. (Like the Memories feature that has become standard in the Photos app.) Apple already has an absurdly (and somewhat accidentally) successful messaging app in Messages, its SMS-and-messaging app. So don't be surprised if you end up seeing Apple's take on Snapchat built directly into Apple's messages program. The forthcoming iOS 10 update, with its animated doodles, emojifier, and slew of other colorful messaging options already feels a little like a gimmick aimed at the Snapchat generation. Including video messaging would only up that ante.