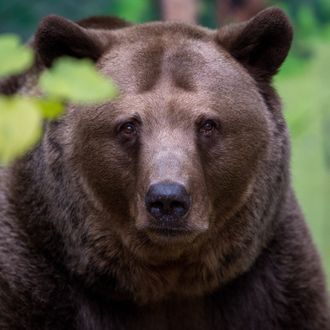 Photo: JOE KLAMAR/Getty Images
In June, a bear wandered into an unsuspecting neighborhood near Los Angeles, California. For several hours, the creature lumbered through front yards, back yards, and swimming pools, until the kind folks at the California Department of Fish and Wildlife ushered the bear down from a tree and back into the wild. It was, particularly if you spend your days glued to the internet, a fun way to spend an afternoon. (Though it paled in comparison to the great llama chase of 2015 that I cannot wait to tell my grandkids about someday.)
After the bear went back to wherever it came from, I, like all of you no doubt, when back to my day-to-day life without an ursine care in the world. Until Monday, when a mother bear and two cubs broke into a California man's house. Which, naturally, the man filmed and put on the internet to the tun of nearly a quarter million views. (It's worth a watch if not for the two-second glimpse of the bear, but for the minute of terrified yelping.)
The very next day, several bears wandered out of the woods and into Lake Tahoe where they splashed around in the water amidst human kayakers and swimmers. Again, video. Again, thousands of clicks.
And today, video surfaced of a bear in New Mexico who earlier this summer climbed atop a trash truck and road it for five miles.
Now I'm not saying these bears are in cahoots, but I'm not not saying that either. Maybe they're radicalizing. Or coming together to warn us about our impending doom. Or maybe they're just hoping to hang out and catch up on this season of Mr. Robot (it's getting better!). Bears, if you're reading this, please let us know your aims. Otherwise we'll be forced to continue filming you and putting you on the internet like common house cats.