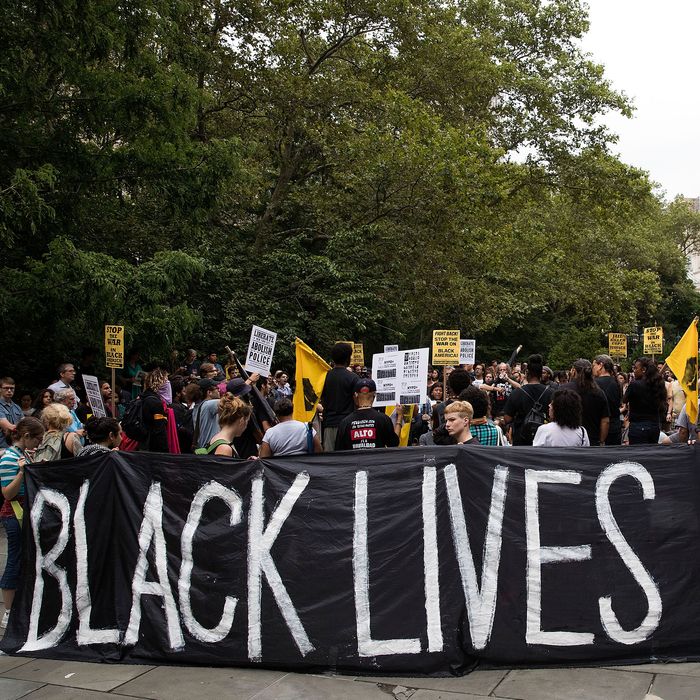 A rally outside City Hall Monday in New York City, where protesters demanded the resignation of NYPD commissioner Bill Bratton.
Photo: Drew Angerer/Getty Images
The Movement for Black Lives has put forward a sweeping platform of policy demands days before the anniversary of the shooting death of Michael Brown in Ferguson, where the Black Lives Matter movement first rose to national prominence. A coalition of 65 groups affiliated with Black Lives Matter is proposing about 40 policy solutions under six broad categories ("economic justice" to "community control") that include the call for reparations for "past and continuing harms"; a push to "ban the box" and curtail job discrimination against the formerly incarcerated; reform of the current monetary bail system; investments in education, jobs, and mental-health programs; and divestments in the penal system in exchange for a renewed focus on restorative justice. (The entire list of policy demands is available here.)
The platform took shape over a year, reports the New York Times, with the overarching theme of ending violence against black lives, under which it includes immigrants and gay, transgender, and disabled people, among other marginalized groups. The demands are a decisive step toward becoming an organized political force, though the coalition has not endorsed any 2016 presidential candidate.
The coalition lays out specific calls to action for each of its demands, and lists the government entity to lobby on the local, state, and federal levels. The drafters of each policy proposal also detail government initiatives already in progress that the movement embraces. "We recognize that not all of our collective needs and visions can be translated into policy," the platform states, "but we understand that policy change is one of many tactics necessary to move us towards the world we envision. We have come together now because we believe it is time to forge a new covenant."