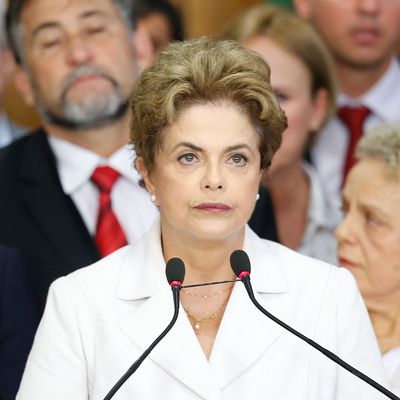 Dilma Rousseff probably not enjoying the Olympics right now.
Photo: Igo Estrela/Getty Images
With the Olympics underway in Rio, Brazil's political crisis entered its next phase Wednesday, when that country's Senate overwhelmingly voted to indict suspended president Dilma Rousseff on charges of violating budget laws. The Senate, which supported the move 59 to 21, could permanently remove the left-wing Rousseff from office.
The Senate's decision came after months of limbo. The legislative body voted in May to begin impeachment proceedings against Rousseff, who stepped aside from her administration. Her conservative, pro-business vice-president, Michel Temer, took over as interim president.
Rousseff is accused of pedaladas fiscais, or moving money from state-controlled banks to pay for popular social programs, starting in 2013 — ostensibly to bolster her 2014 reelection bid, which Rousseff won in a close race. Brazil is now facing its worst economic recession since the 1930s, and Rousseff's critics point to the president's creative math as a deliberate attempt to make the economy appear solid when it was really about to go into a tailspin. Technically, Rousseff is only charged with making these so-called pedaladas at the start of her second term in 2015, but past allegations are certainly coloring the proceedings.
Rousseff has denied the charges and called the impeachment proceedings a "coup." But her prospects of holding on to the presidency are pretty grim. She lost Wednesday's vote (59 to 21) by an even wider margin than the impeachment ballot (55 to 22), both of which required a majority. The 81-seat Brazilian Senate needs a two-thirds majority to convict Rousseff — which lawmakers have already ginned up, as former allies have defected.
The final vote on Rousseff's fate will likely come at the end of the month — as early as August 23, just two days after the Olympic closing ceremonies. If she's ousted, interim president Temer will officially take over and serve out the rest of Rousseff's term, through 2018.