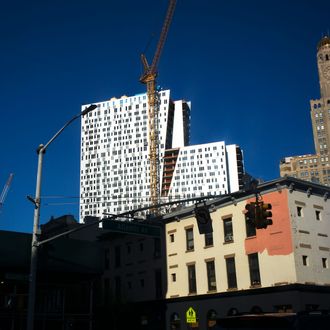 View of various high-rise buildings and brownstones along Atlantic Avenue (near the intersection with Third Avenue) in downtown Brooklyn, New York, April 23, 2016.
Photo: Robert Nickelsberg/Getty Images
Residential buildings are rising in downtown Brooklyn. The area near Barclays Center will deliver a fifth of the city's new apartments this year and next — and now landlords really, really need to fill them.
According to a report in the New York Times, Brooklyn's construction boom has given way to a "saturated" real-estate market:
There are 19 residential towers either under construction or recently completed along the 10-block section of Flatbush stretching from Barclays Center north to Myrtle Avenue. When all of them are finished, they will have added more than 6,500 apartments — overwhelmingly rentals — to New York City's housing stock. Another four buildings on Myrtle Avenue will add almost 1,000 more units.
That surplus is creating a favorable renter's market for these (mostly) higher-end apartments. Landlords are offering discounts on rent — two or three months free — or adding cushy amenities, like gym access, free of charge. Even with these perks, many of the apartments are still pretty pricey — more than $3,000 for a one-bedroom, for example. "It's too many units skewed to the upper end of the market," Jonathan J. Miller, president and chief executive of Miller Samuel, a real-estate appraisal and consulting firm, told the Times. "The top of the market is soft for both rentals and condos. That's where the bulk of the new supply is coming."
Low- and middle-income tenants will have a harder time taking advantage of the flooded rental market. More than 1,600 new downtown Brooklyn apartments — about a quarter of the new Flatbush units — will be set aside for middle- and low-income tenants under the (now expired) 421-a program, which offers tax abatements to developers for designating a percentage of units for affordable housing. But these spots, in Brooklyn and pretty much everywhere else in the city, are in extreme demand. At downtown Brooklyn's City Point tower at 7 DeKalb, more than 87,700 people applied for just 200 apartments for lower- and middle-income tenants in March. According to the Times, that 23-story building is offering two months of free rent to market-rate tenants for a 14-month lease.
It's not just downtown Brooklyn, either. Manhattan's luxury buyer's market took a hit in the last months of 2015, with a surplus of units and a decreased demand for those fancy pads. And a report released earlier this month showed that the number of available apartments in Manhattan and Brooklyn this July were the highest in years, and — again, at the higher end — vacancies rose 2.49 percent in Manhattan, the largest increase in nine years.