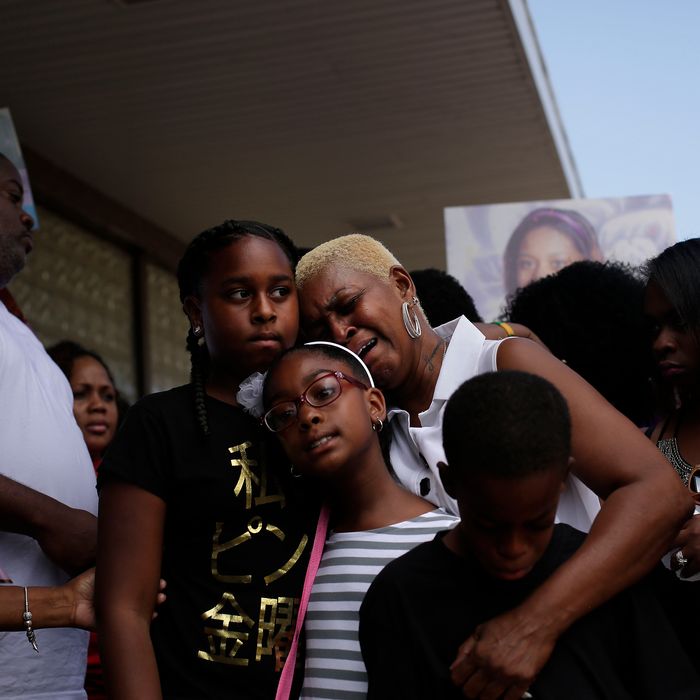 Nykea Aldridge's mother and children in mourning.
Photo: Joshua Lott/Getty Images
Chicago police are reporting that two suspects have been charged in the shooting death of Nykea Aldridge, a 32-year-old mother of four and cousin of NBA star Dwyane Wade. The suspects are two brothers — Darwin Sorrells Jr., 26, and Derren Sorrells, 22 — both convicted felons and "documented gang members" who were out on parole when the shooting took place. They are being charged with first-degree murder and attempted murder.
Police say the pair were trying to shoot an Uber driver dropping off passengers from a nearby car Friday afternoon when they accidentally shot Aldridge. She was killed while pushing her baby in a stroller on the way to register her other children for elementary school. The baby was unharmed.
Shootings are tragically common in Chicago which sometimes sees 90 homicides a week, but this particular murder has transfixed the city and received national attention thanks to the victim's famous cousin and a controversial tweet Donald Trump sent out after her death.
Following her slaying, Dwyane Wade — who recently signed a $47.5 million contract to play for the Bulls in Chicago — sent out a series of tweets calling on people to help end the violence in his embattled city and saying "these young kids are screaming for help!!!" with the hashtag #EnoughIsEnough.
Hours later Donald Trump tweeted saying that the shooting was "Just what I have been saying" and that "African-Americans will VOTE TRUMP!"
His tweet received widespread condemnation from people who thought it was self-serving and inappropriate, leading Trump to eventually send out a second, more traditional tweet offering his condolences.
The murder has proved especially significant for Chicago Police Superintendent Eddie T. Johnson who has long called for stricter punishments and longer sentences for offenders as a way to help fight his city's rising crime rates.
Johnson has held up the brothers as prime examples of "repeat offenders who … clearly don't face the consequences of their actions."
One of the suspects was required to wear a monitoring device and was under limited house arrest at the time of the shooting and the other was sentenced to six years in prison in 2013 on a gun charge but was released early.
467 people have been killed in Chicago so far this year.