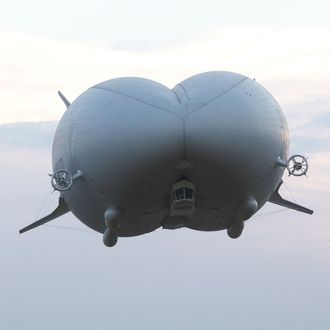 Photo: Bloomberg/Getty Images
Measuring 302 feet, the Airlander 10 is known for being the longest aircraft in the world, and also for looking like a giant flying butt. Sadly, however, this triumph of buttlike engineering crashed during its second test flight on Wednesday at Cardington Airfield in Bedfordshire, England.
The BBC reports the slow-motion crash occurred during landing and that no crew members were injured. "The Airlander experienced a heavy landing and the front of the flight deck has sustained some damage which is currently being assessed," Hybrid Air Vehicles, the company behind Airlander 10, explained in a Facebook post. Which means, the craft crashed headfirst, rather than tail-. Which is good, because had it been the other way around, I would have been contractually obligated to make a butt pun here.