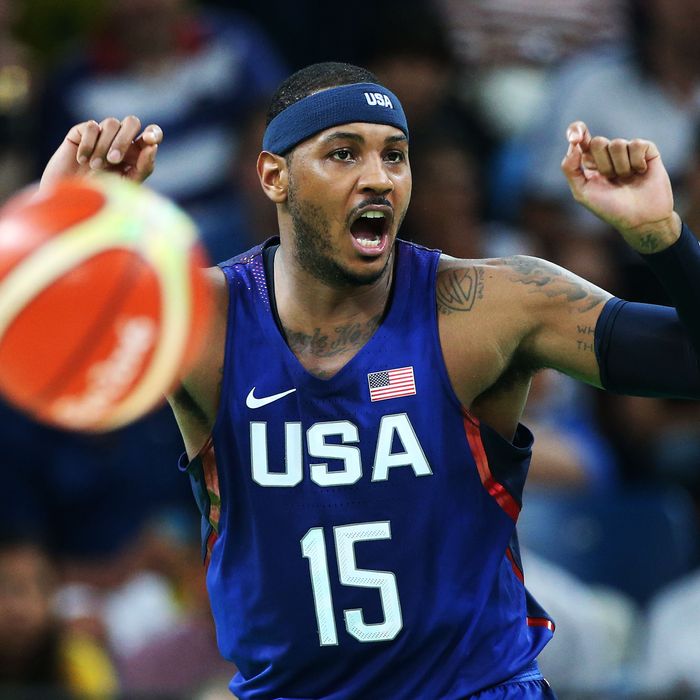 GOAT
Photo: Jean Catuffe/Getty Images
With his 31-point performance in Team USA's win over a plucky group of Aussies on Wednesday, American hero Carmelo Anthony became his country's all-time leading scorer in Olympic basketball. The pudgy ball hog who's spent over a decade as one of the NBA's most polarizing players is now, without argument, the greatest male Olympic basketball player ever.
By the time these Olympics end, his point total could be well over 350. LeBron James's old record, which Anthony just surpassed, is 273. 'Melo's mark will stand for a long time.
And, really, that should end the argument. He's scored the most points, therefore he's the best! But it's not that simple. With Anthony, it never is. Haters have compared being the greatest Olympian to being the "best fish taco in Tulsa." USA Today noted that, despite Anthony's record, Michael Jordan remains the "most dominant scorer in American Olympic history."
That's why, despite the unassailable case made by all of his points, Anthony's argument for GOAT status is better made by a much smaller number — four. That's how many times he's suited up for Team USA in the Olympics. And like his point total, it's a record.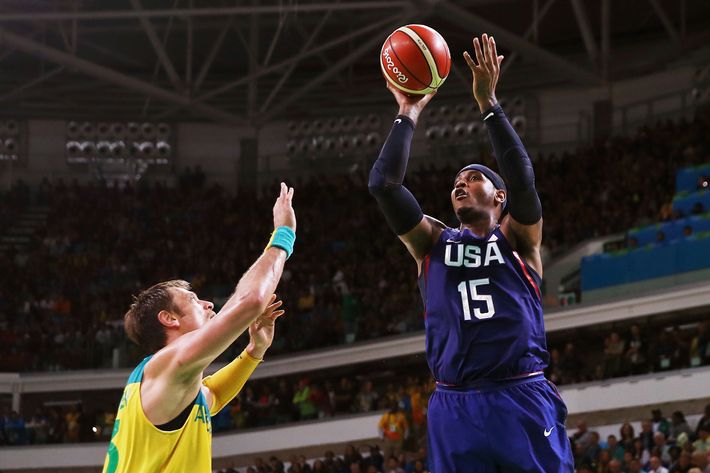 Anthony began his Olympic career as a member of Team USA in Athens, a fitting setting for a team that crumbled like feta. Not that he deserves much blame. He'd been in the NBA for one year at the time and played only 6.8 minutes per game. Team USA won the bronze in Athens, an embarrassment that, along with a semifinals loss in the 2006 FIBA World Championships, gave rise to the Redeem Team in 2008. Anthony was at the center of that squad, along with James, Dwyane Wade, and Kobe Bryant. They won gold, just like they did four years later in London.
That was enough for James and Chris Paul, the only other members of the London and Beijing teams who would have been welcome in Rio. Their reasons for not participating? James "could use the rest," and Paul could "feel my body telling me that I could use the time." They may be 31 in human years, but James and Paul are 85 and 64, respectively, in basketball years (double the age and add the number on their jersey), so it's hard to blame them for sitting this one out.
Younger players with less reason for Olympic ennui skipped Rio, too. Russell Westbrook (27), James Harden (26), and Kawhi Leonard (25) all declined to participate for no real reason. That's fine, by the way. The NBA season is grueling, and these guys shouldn't be dumped on for taking a couple of months away from basketball. Especially when they know there are highly capable players willing to step in and take their place. It's also why the 32-year-old Anthony deserves so much credit for representing his country.
Before this drifts too far into the realm of hagiography, let's acknowledge that joining Team USA is not a noble act of selflessness. Anthony has spent the summer playing basketball, traveling to Brazil, and staying on a luxury cruise ship. He'll likely make some money for his trouble, too. Not a bad way to spend an off-season. Still, it's worth acknowledging that many rich American athletes didn't go to Rio, and not just basketball players. A lot of golfers stayed home, along with the top American male tennis player. When you've made $180 million playing basketball, you can spend your summer any way you want.
Anthony chose to represent his country — again. As James and Paul have proven, that's not something players of this stature do. But Anthony is in Rio, leading Team USA to victory and, in all likelihood, a gold medal, which is the real reason he's back for a fourth Games.
Basketball fans love to define a player's NBA greatness with a one-word argument: "Rings!" Anthony has none, but he'll likely become the first male basketball player to win a third Olympic gold, allowing him to make an argument for Team USA's greatness that no one else can: "Medals!"