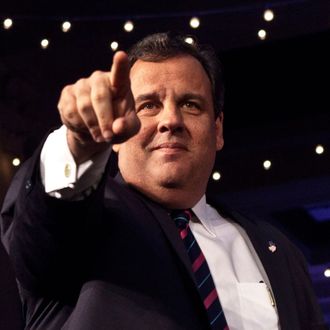 Chris Christie.
Photo: Kena Betancur/Getty Images
New Jersey governor and McDonald's errand boy Chris Christie has repeatedly denied any direct involvement in the George Washington Bridge lane-closure scandal, forever known as "Bridgegate." Yet new court documents reveal that maybe Christie wasn't being entirely straight when he said he believed his senior staffers did not know about the "traffic study" plan.
Christina Renna, one of Christie's former aides, apparently texted her colleague Peter Sheridan, a then-reelection campaign staffer, and privately annotated the governor's December 13, 2013, press conference on the scandal:

The exchange was included in court papers filed by lawyers for Bill Baroni, a former top official at the Port Authority, who's facing trial next month for his involvement in the lane-closure scheme. Federal prosecutors allege the plot was cooked up to punish the mayor of Fort Lee, New Jersey, for withholding his support for Christie in his reelection bid. Baroni, along with Bridget Kelly, Christie's ex-deputy chief of staff, are facing charges of conspiracy and fraud for their alleged involvement in the plot. David Wildstein, a senior Port Authority official, has already pleaded guilty and is cooperating with federal prosecutors.
Bill Stepien, mentioned in the text conversation, was Christie's campaign chief. Christie distanced himself from him after the scandal broke, but Stepien has not been charged with any wrongdoing in the case. Governor Chris Christie has also not been charged with any crimes.
Christie called the allegation that he lied during the 2013 presser "ridiculous." The governor pointed out that the text messages were submitted by a defense attorney, and didn't come from a witness under oath. "I absolutely dispute it," Christie said Wednesday. "It's ridiculous. It's nothing new. There's nothing new to talk about."