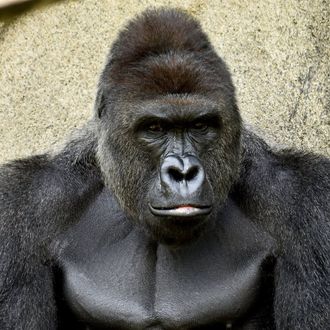 Photo: Cincinnati Zoo & Botanical Garden/Facebook
Of all of the memes this summer, nothing has had staying power like Harambe, a refracted version of online-outrage culture that has gone to some absurd places. Online petitions, parody song lyrics, maudlin music video tributes. But while some see Harambe as fun and games, the staff at the Cincinnati Zoo does not.
The Associated Press reports:
"We are not amused by the memes, petitions and signs about Harambe," Thane Maynard, Cincinnati Zoo director, said by email. "Our zoo family is still healing, and the constant mention of Harambe makes moving forward more difficult for us. We are honoring Harambe by redoubling our gorilla conservation efforts and encouraging others to join us."
Petitions calling for Harambe tributes like renaming the Cincinnati Bengals and adding Harambe to the next Pokémon game are abundant online. On social media in particular, though, commenters have flooded the zoo's comment section with Harambe mentions.
And all of this is kind of the point of Harambe jokes. It's pushing animal activism past its breaking point, into absurdity. By asking memers and trolls to stop, the zoo is inversely encouraging them to keep going. Harambe memes might eventually die, but they can't be killed.