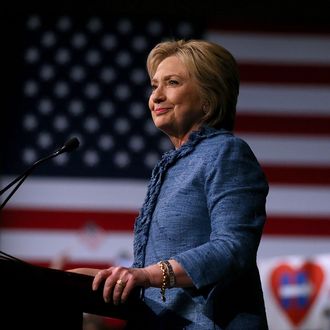 If this works, she'll try daring Trump to drop out of the race.
Photo: Justin Sullivan/2016 Getty Images
Not content to let Donald Trump shoot himself in the foot, on Monday, the Hillary Clinton campaign announced that she will appear at three scheduled presidential debates — though no one asked.

In previous years, no one would have wondered if the candidates would show up on the dates set by the bipartisan Commission on Presidential Debates, but last month, Trump tweeted this:

The Republican National Committee backed up Trump's conspiracy theory, though the commission noted that the dates — September 26, October 9, and October 19 — have been set for almost a year, they've aired opposite NFL games in the past, and it's nearly impossible to find dates with no sporting events in the fall. (Plus DVRs exist and the whole thing will be posted online.)

Trump stopped short of threatening to boycott the debates, but the Clinton camp is clearly trying to send him over the edge. (As Clinton noted in her DNC speech, he's a "man you can bait with a tweet.") Out of the blue, Clinton campaign chair John Podesta said in a statement on Monday, "Secretary Clinton looks forward to participating in all three presidential debates scheduled by the independent debate commission."
"It is concerning that the Trump campaign is already engaged in shenanigans around these debates," Podesta continued. "It is not clear if he is trying to avoid debates, or merely toying with the press to create more drama. Either way, our campaign is not interested in playing along with a debate about debates or bargaining around them."
Podesta concluded with a challenge to Trump: "The only issue now is whether Donald Trump is going to show up to debate at the date, times, places and formats set by the commission last year through a bipartisan process. We will accept the commission's invitation and expect Donald Trump to do the same."
So now if Trump accepts, he shows up for the debates, as expected. If he complains, Clinton will say he's afraid to face her. Overall, it's some smart debate-related shenanigans from the Clinton camp.