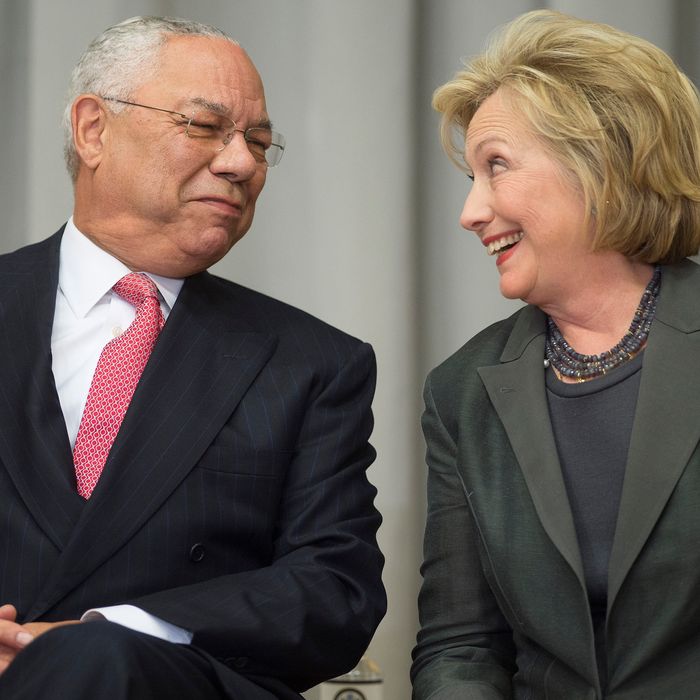 Colin Powell and Hillary Clinton in 2014.
Photo: Jim Watson/AFP/Getty Images
Hillary Clinton told the FBI that she had followed the advice of her predecessor Colin Powell in using a personal email account during her tenure as secretary of State, the New York Times reported on Thursday.
Clinton made this claim in a July interview with investigators, notes from which were provided to Congress on Tuesday, that led to FBI Director James Comey's decision not to indict her on criminal charges regarding her use of personal email and a private server to conduct official business while at the State Department.
The interview also apparently referred to an email exchange from 2009 between Clinton and Powell, who helmed the State Department during the first administration of George W. Bush, in which she asks about his email practices while in office, although she had already decided to use a private address by that time.
Colin Powell's office issued a statement Friday morning saying that the former secretary of State did send a memo to Clinton about the benefits of his use of personal email for unclassified documents, though he apparently no longer has a record of it. But, the statement noted, there wasn't an "equivalent system" within the Department of State when Powell served, so it's still a bit of an open question whether he "advised" Clinton to go that route.
The Times hasn't actually seen any documents either, but cites a "person with direct knowledge of Mr. Powell's appearance" in them, "who would not speak for attribution." The notes from the interview have not yet been made public, although her presidential campaign says it is eager to have them aired pending a State Department review.
The Times also cites Joe Conason's forthcoming book about Bill Clinton's post-presidency, which recounts another 2009 conversation in which Powell reportedly advised Clinton to use personal email for everything except classified communications.
Although Clinton has not stated publicly that Powell advised her in this regard, she and her backers have repeatedly pointed to Powell's use of private email as a precedent for her own actions. A State Department audit earlier this year confirmed that Powell had indeed done so.
Clinton's situation differed considerably from Powell's, however, in her use of a private server located in her Chappaqua home, her employment of outside contractors to maintain that server, and the fact that she took up the post several years after Powell had left it, by which time rules about digital technology and cybersecurity had been firmed up.
The aforementioned audit said Clinton's setup had violated federal record-keeping rules, and while the FBI did not issue an indictment, Comey did take her to task for behaving recklessly with sensitive information.