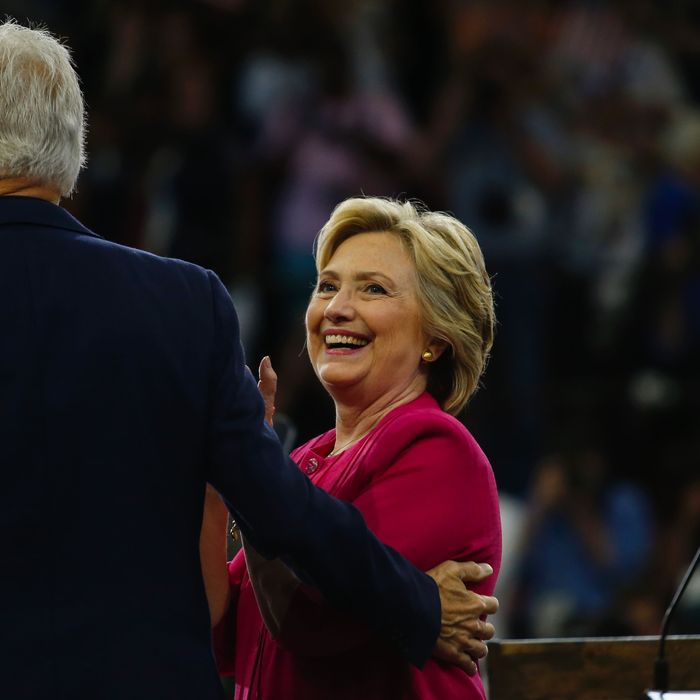 While it's normal for presidential candidates to release their tax returns, the Clintons are also now trying to call attention to Trump's refusal, thus far, to do so himself.
Photo: Eduardo Munoz Alvarez/AFP/Getty Images
Hillary and Bill Clinton released their 2015 tax returns on Friday night, CNBC reports, showing that they had an adjusted gross income of $10.6 million last year, on which they paid an effective federal tax rate of around 34 percent ($3.6 million). Hillary made nearly $1.5 million in income from speaking appearances, while Bill took in $5.25 million that way. Hillary also made $3 million in proceeds from her book Hard Choices. The Clintons' $2 2015 income was a little more than a third of what it was in 2014 ($28.3 million). The Clinton campaign also says that the couple gave 9.8 percent of their adjusted gross income to charity, though almost all of it went to their charity, the Clinton Foundation.

Donald Trump, despite facing a great deal of criticism over the issue, still hasn't released his own tax returns — something the Clinton campaign continues to try and draw negative attention to. Should he opt to never release them, Trump would be the first major presidential candidate in decades to ignore the precedent. A Trump campaign statement released on Friday responding to the Clintons' release avoided the topic of Trump's returns, and Trump has previously said that an IRS audit prevented him from releasing his returns — though, as the New York Times points out, that's not actually true, according to the IRS.