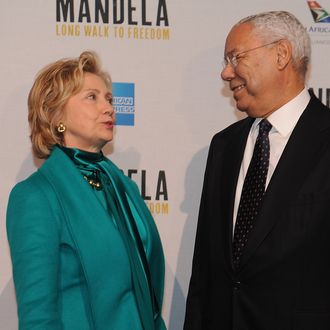 Photo: Larry French/Getty Images
According to Colin Powell, in addition to being ethically challenged, Hillary Clinton is somewhat incompetent. At an event in the Hamptons over the weekend, the former George W. Bush administration official said of the never-ending Clinton email scandal, "Her people have been trying to pin it on me."
Recently it emerged that in her July interview with the FBI, Clinton told investigators that she chose to use a private email server during her time at the State Department because Powell told her, at a dinner party, that that's what he did when he was secretary of State. Last week, Powell released a statement saying that despite a report in an upcoming Bill Clinton biography, he does not recall advising Clinton to use her own email address for everything but classified emails. However, he did send her a memo saying he found it convenient to use his AOL account on the job.

"The truth is, she was using [the private email server] for a year before I sent her a memo telling her what I did," Powell said on Saturday, according to People. When asked why, he said, "Why do you think?" adding, "It doesn't bother me. But it's okay; I'm free."
Journalist Joe Conason, the author of that Clinton biography, says his reporting differs from Powell's latest version of events. Conason reached out to Powell's office last June for comment about that dinner – which was hosted by Madeline Albright in June 2009. Powell's principal assistant responded to the inquiry via email with these details about the night:
He does recall sharing with Secretary Clinton his use of his email account and how useful it was and transformative for the Department. He knew nothing then or until recently about her private home server and a personal domain, nor, therefore, could he have advised her on that or suggested it. By June I would assume her email system was already set up.
The Clinton team has repeatedly pointed to Powell as proof that there's nothing odd about Hillary using private email (though he did not have a private server in his home, and government transparency laws changed between the George W. Bush and Obama administrations). However, Clinton has never publicly tried to "pin" Emailgate on Powell. We only learned this week that Powell suggested using private email because that's what she told FBI investigators during an interview in July. FBI director James Comey decided not to bring criminal charges against Clinton, but files from the investigation were turned over to Congress last week.
It's actually strange that while cycling through a number of bad explanations for her private email server, Clinton never told the press that Powell suggested it. If she were more adept at scandal management, she would have blamed it on him a long time ago.

This post has been updated to include Conason's response.